FA Cup: Harrogate striker makes an impact on and off the pitch
By Ian Woodcock
BBC Yorkshire Sport
Last updated on .From the section Football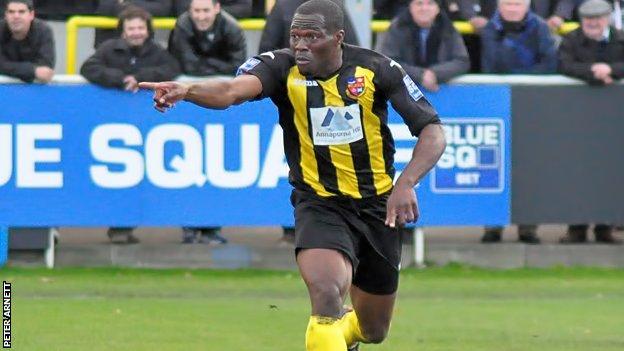 The story of non-league players preparing for a big FA Cup game while still carrying out their day job is almost as old as the competition itself.
However, Harrogate Town striker Chib Chilaka is almost certainly alone in coaching a team of recovering substance abusers.
It is two days away from Town's first ever FA Cup second round tie, at home to Isthmian League Premier Division side Hastings United, but Chilaka is keeping his priorities in check at the weekly training session.
"The manager initially ran the team but he was away one week so they asked me to take one session," he told BBC Yorkshire Sport.
"It was only meant to be a one-time thing but I really enjoyed it and so did the lads. We formed a really good relationship so I took it on from there.
"I'm helping people to change their lives and use something they love to further their lives and careers. Scoring in the FA Cup is great but life is about more than just yourself."
CRI Harrogate, supported by the Harrogate Town Community Foundation, aims to use football as a way to help people who have suffered with substance abuse move on with their lives and re-integrate into society.
"For me it lets me see their progression, not just as footballers but as people too. If I can get them off the streets and into doing something productive then that's great," he added.
"We recently entered a tournament in Doncaster and the lads were just fantastic. They were passing the ball really well and doing all the things we do in training.
"We won the tournament and it was absolutely brilliant to see the elation on their faces at the end of the day."
Chilaka has made a big impression both on and off the pitch this season. He scored the only goal of the game against League Two Torquay in the first round to set up a second round meeting with the team from Sussex.
Saturday's tie sees both teams stepping into virgin territory having never got past the first round before.
"I don't know much about them, I leave that side to the management," Chilaka admits.
"What I do know is that they beat a team in our league in the last round and that is enough for me.
"We won't approach the game thinking that we're going to roll them over. They've shown that they can cause an upset but then so have we.
"It's not the best feeling being the favourite. As the underdog there's no pressure and you can just go out there and try to get what you can."
The 26-year-old, who has formerly represented English Universities during his time studying for his human biology degree at the University of Hull, has had spells with Notts County, Hinckley United, Bridlington Town, Leeds Carnegie, Bradford City and Braintree.
Now in his second spell with Simon Weaver's side he is hoping to help the club make more history.
"All my career I've wanted to do well and be successful in cup competitions so the win over Torquay is right up there in my career highlights," he continued.
"This is the furthest the club have been in a cup competition and I'm very proud to be part of the club.
"I can't explain what it's been like around the town. There is genuinely a buzz about the place, as cliched as that sounds."
Meeting Chilaka at Rossett High School in Harrogate you can see what he means.
The interview is delayed while he signs autographs and poses for pictures with pupils and the PE teacher leaves him with the words "see you on Saturday".
Despite his new-found fame, he is unsurprisingly remaining grounded over who his dream opposition would be in a potentially life-changing Cup tie in round three.
"I'm just focusing on getting through at the moment. I'm not going to name names until we get there," he concluded.
"It would be disrespectful to our opposition. Ask me again on Saturday evening I'd I'll tell you who I'd like to play."
If Town can play with the same passion on the pitch as Chilaka shows off it then they might just have one or two surprises left in them yet.