MK Dons v AFC Wimbledon: Stuart Murdoch's story
By Chris Osborne
BBC East Sport
Last updated on .From the section Football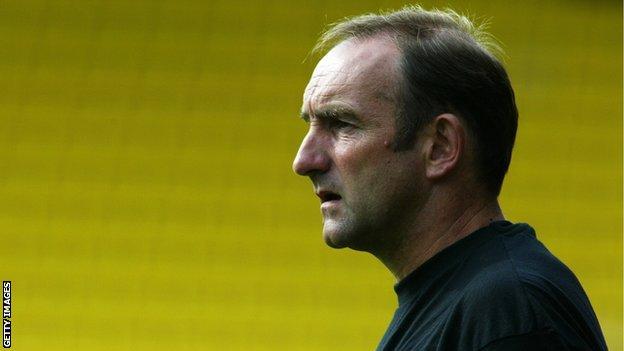 Stuart Murdoch had only one managerial job during his career; it lasted 29 months and started in Wimbledon and ended in Milton Keynes.
The metamorphosis of Wimbledon FC into MK Dons, complete by 2004, saw the demise of the Crazy Gang, provoked a hoard of disgruntled fans to perform numerous protests and spawned two new clubs - AFC Wimbledon and MK Dons.
AFC, created by former Wimbledon supporters, and MK face each other for the first time ever in the second round of the FA Cup on Sunday.
Despite having little to do with the move itself, Murdoch was the public face of the chaos.
He lost his job and never managed again, something he believes lies in his connection to the early days of MK Dons.
"I think I was blacklisted. You ask if I was thinking of quitting and moving - well I didn't have the opportunity to go anywhere," the 57-year-old told BBC East Sport from his home in south Spain.
"I was the face of that situation and was probably seen by other clubs and chairmen in that light. So in a way I was possibly unemployable. I didn't get the opportunity to manage again."
Murdoch did not set the world alight as a player and never broke into the professional ranks, but forged a career as a goalkeeping coach and claimed his first notable job as Watford's reserve team manager under Glenn Roeder in 1993.
He was something of an unknown quantity when he took charge of the Dons in June 2002 following a caretaker spell and found himself in the middle of a maelstrom triggered by the desire of the club's Norwegian owners to relocate.
Initially Dublin was proposed as a potential new home but, with that ruled out, by the end of the 2002-03 campaign it was destination Milton Keynes.
Wimbledon supporters, unsurprisingly, were unimpressed.
"We had all the fans making noises and demonstrating, saying they didn't want the club to move," recalled Murdoch.
"I remember Mikele Leigertwood made his debut in a game where the fans decided they would turn their back on the game in a particular minute and look in the opposite direction.
"That was when this poor lad was making his debut, so I don't know how he felt about that.
"Part of me understood them. The other part of me was disappointed that the players were working their socks off and not getting the recognition they deserved.
"I know the fans wouldn't like to hear this but we took it on as a bit of the old Wimbledon spirit. We had to treat it like the old Wimbledon would - everybody hates us and we'll just get on with it.
"But the ridiculous thing was it was our own supporters who were hating us."
By May 2003 Murdoch had led the Dons to a respectable 10th-place finish in what is now the Championship.
But the club, who had been groundsharing with Crystal Palace for 13 years, were falling apart and by June that year the Norwegian owners had "jumped ship", as Murdoch puts it, and they were in administration.
Murdoch was facing a new season with fans boycotting games in protest of the impending move and with key players, including Nigel Reo-Coker, Jobi McAnuff, Neil Shipperley, David Connolly and Leigertwood, leaving in a desperate attempt to raise funds.
While Murdoch was taking the brunt of supporters' dissent at the time, it was music executive and eventual chairman Pete Winkelman who would go on to become the man Wimbledon fans would truly hate.
Winkelman pulled all the strings in the move and has admitted regret about the manner in which he dislodged Wimbledon FC from south-west London and planted them among the identikit warehouses and retail parks in Milton Keynes.
Murdoch believed, at the time, that upping sticks was the only option.
"That's how it appeared. The Wimbledon supporters argued - and proved the point - that the best thing would have been to let the club die and start again," he said.
"From my point of view I didn't want to lose my job. The players just wanted to play football.
"I was totally apprehensive about it. Initially we didn't even know who was going to own the club.
"I got to a point where I realised I couldn't worry about what I couldn't influence. And the only thing I could influence was the players on the pitch.
"Although I was getting abuse from supporters to do with other things, I thought that wasn't to do with me. All I can do is work with the players."
Following relegation in the 2003-04 campaign, in which Wimbledon moved from Selhurst Park to the National Hockey Stadium in Milton Keynes, Murdoch remained at the helm for another five months and was sacked in November 2004.
He had spent more than two years trying to manage a team without any money, supporters or a home. But, strangely, he never came close to quitting.
"At times I thought it wasn't worth it. But the one thing about MK Dons is that they had - and still have - the most enthusiastic chairman in the world," he said.
"Pete Winkelman was probably the only thing that kept me there.
"I told him at the time 'Pete, don't think this is just going to happen'. I said 'it will take at least 10 years to establish yourself as a football club'."
Did it ever occur to him to walk out on principle alone, to align himself with disillusioned supporters?
"It possibly did. But I couldn't afford to. We all have to pay the mortgage," he said.
"I wasn't one of the best-paid managers in the world. In fact I was probably one of the worst-paid managers in the world.
"But had I just quit I would have had no income. It's hard enough to get a job in football when you're in it. You could say you quit on a matter of principle but unfortunately that doesn't get you another job."
Murdoch believes he became tainted by association. Football had roundly reacted with anger to the formation of MK Dons amid fears that a precedent had been set, that an American-style franchise system was lurking around he corner.
Who was to say your team would not be picked up and plonked somewhere else in the country?
Murdoch's record as Wimbledon and MK boss was far from disastrous. He won almost a third of his games - 35 of 122 - with threadbare resources.
But another managerial chance never came along and he returned to his previous role as a goalkeeper coach, working for Bournemouth, Gillingham, Norwich and Southampton.
He lives in Spain, where he does occasional scouting for former Saints boss and current Newcastle United manager Alan Pardew, and where he has been able to keep himself at arms' length from the media storm anticipating the biggest rivalry between two sides who have never faced each other.
"What saddens me is that people haven't left it behind," he said, considering the venom that still exists between the clubs.
"I understand everything. But the AFC Wimbledon supporters have got what they wanted. They've got a team in the League and they worked damned hard for it and all credit to them for that.
"Will I watch it? I don't know. I have a feeling in both sides of the camp.
"I'm sure the people of AFC Wimbledon still dislike me because I didn't jump ship and leave Mr Winkelman to it. But the mortgage had to be paid and that was that."