Mark Clattenburg welcomed back to Premier League refereeing
By Nabil Hassan
BBC Sport at St Mary's Stadium
Last updated on .From the section Football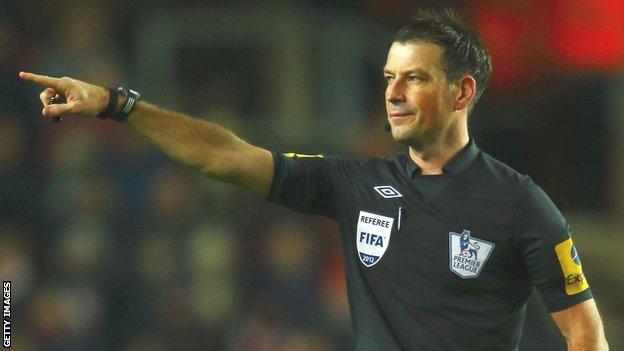 Mark Clattenburg was given a warm welcome as he returned to refereeing after being cleared of racially abusing Chelsea's John Mikel Obi.
Exactly a month after taking charge of his last game, the 37-year-old was in charge of the 1-1 Premier League draw between Southampton and Norwich.
He was given a standing ovation by both sets of supporters before the match.
Both Saints manager Nigel Adkins and Norwich boss Chris Hughton said they were glad to see him return.
"He is an excellent referee, and I speak for most when I say we are delighted to see him back," Hughton told BBC Sport.
"He has a passion for what he does, is very good at what he does and we need the best referees week in, week out."
Adkins added: "Of course I'm pleased to see him back. It was an unfortunate situation that arose and he is a fine referee that has a great career in front of him."
Clattenburg missed four weekends of Premier League matches while the Football Association investigated Chelsea's complaint after he was accused of using inappropriate language towards midfielder Mikel in their 3-2 home defeat by Manchester United on 28 October.
But he was later cleared by the FA, while a police investigation into the referee was also dropped.
On Tuesday Chelsea issued a statement saying they regretted the way they handled their accusation towards Clattenburg and referees' union Prospect later welcomed the joint statement saying it was "tantamount to, and accepted by Mark and the Select Group [of referees], as an apology".
Wednesday's game was a relatively uneventful one for the referee, who had been the fourth official at Tottenham's home game with West Ham on Sunday.
The only decision he had to make that was open to any contention was Rickie Lambert's opener for Saints that appeared to bounce up off the striker's arm.
But Hughton refused to blame the referee following that incident, adding he felt Clattenburg had been unsighted.
Saints manager Adkins agreed with Clattenburg's decision not to rule out Saints' opening goal but was less glowing of his overall performance.
"I don't think it was a free-kick, but he made some interesting decisions," said Adkins.
Prospect boss Alan Leighton had speculated that Chelsea's accusation would stick, adding: "Everybody always remembers an allegation but not everybody always remembers the outcome."
But if there was any doubt how the general public felt towards Clattenburg the gesture of applauding him as he left the pitch at St Mary's after his pre-match warm up ended any lingering doubts.
However, he was not spared the insulting chants normally directed the way of referees during matches.
'You don't know what you're doing' followed by 'you're not fit to referee' were directed his way while he was also sarcastically applauded when awarding the home side a free-kick after turning down previous appeals.