Scottish FA encouraged by league reconstruction talks
Last updated on .From the section Football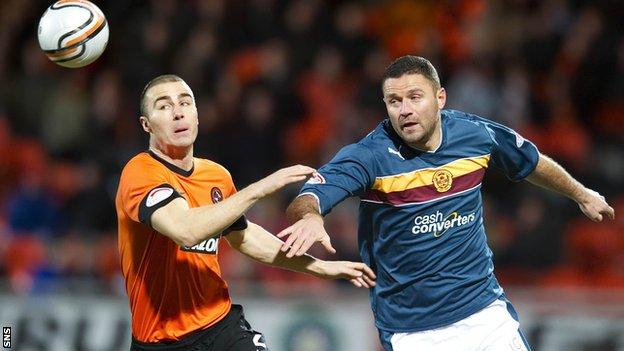 The Scottish FA's professional game board (PGB) plans to meet again on 30 January to discuss proposals on league reconstruction.
This follows Wednesday's meeting at Hampden, where the Scottish Premier League and the Scottish Football League outlined their thinking on the subject.
A statement from the SFA said: "The PGB is encouraged by the common ground established on many issues.
"The league bodies will now hold further discussions with member clubs."
The SPL clubs are thought to be exploring a new set-up with two leagues of 12 splitting into three leagues of eight, while the SFL has outlined plans for a 16-team top flight.
However, SPL chief executive Neil Doncaster has dismissed a 16-team league as "unworkable" because of the reduced number of fixtures.
The SFA statement continued: "The next meeting of the PGB is scheduled for 30 January 2013.
"However, it has offered to reconvene earlier to expedite the process once the bodies have held further talks with their members."
The SPL had previously suggested that there was agreement within its clubs to explore the two leagues of 12 proposal, but Dundee United chairman Stephen Thompson this week resigned from the body's board citing "professional differences".
Meanwhile, although he admitted that he has yet to study the proposals for change in detail, Rangers chief executive Charles Green reiterated his stance that the Glasgow club would not return to the SPL in its current form.
The former Scottish champions are now playing in Division Three after liquidation, but the SPL is continuing an investigation into the alleged use of dual contracts for players during Sir David Murray's ownership that could lead to the stripping of titles.
"Whilst we have solved many issues, the one big issue that has now been deferred to 29 January is the issue of title-stripping," Green told Rangers' website.
"I have said consistently since May that it achieves nothing and it's nothing to do with my newco and therefore I won't engage with it.
"But while it's out there as a threat then it makes it very difficult to engage with the SPL about how we might take things forward when they still might want to go backwards.