England avoid Spain in draw for Uefa 2013 U21 Championship
Last updated on .From the section Football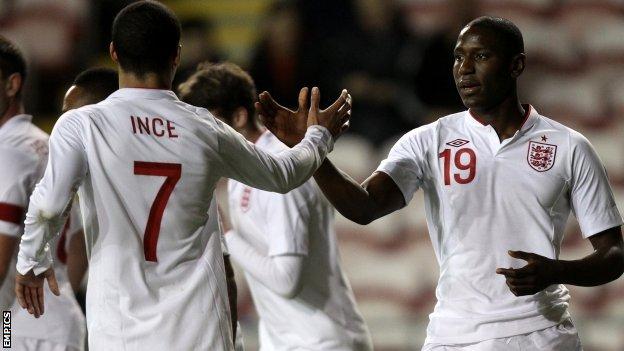 England have avoided holders and strong favourites Spain in the group stages of the 2013 Uefa Under 21 Championship.
Group B appears to be the tougher of the two pools with Spain, Germany, Netherlands and Russia making up the quartet.
The tournament starts on 5 June with the final on 18 June.
Pearce's side qualified for the championship with a 2-0 aggregate win over Serbia, a success which was marred by scuffles between players and staff on both sides.
The England U21 coach said he is "excited" about the competition, but wary of his group opponents despite the draw appearing "easy on paper".
"We will have to be at it from the off to beat the very best young teams in Europe if we are to succeed in this tournament," said Pearce.
"We are in with the hosts and they'll be backed by some great home support. Norway we know all about and there was very little between us in qualifying. Italy are technically very difficult to break down and we have experience of them in the past. On paper it might look easy, but it never works that way. We are excited by it.
"We shouldn't forget that, as much as we're looking around at other teams and talking about their qualities, they'll be looking at us and probably talking in the same terms about our qualities. After all, we are a team that has just gone through a calendar year unbeaten and without conceding a goal - few can boast a record as solid as that. That is credit to the players.
"This will be our fourth tournament, and we'll bring great experience with us in the summer, especially within my staff. That doesn't guarantee success of course and we'll need a strong squad, who are fit and in form. We are coming to Israel to win it."
England senior squad manager Roy Hodgson said he hoped the best players would be available for the tournament - England have suffered in the past with the the withdrawal of high profile players from the squad.
He added: "You can't deny the importance of tournament experience. I really hope the clubs appreciate the value of their players getting tournament experience. It won't just help them internationally, it will help them in their club careers."
Venues and match days are yet to be confirmed by Uefa.
GROUP A
Israel
England
Norway
Italy
GROUP B
Spain
Netherlands
Russia
Germany