Euro 2020: Michel Platini's 13-city idea interests Scots
Last updated on .From the section Football99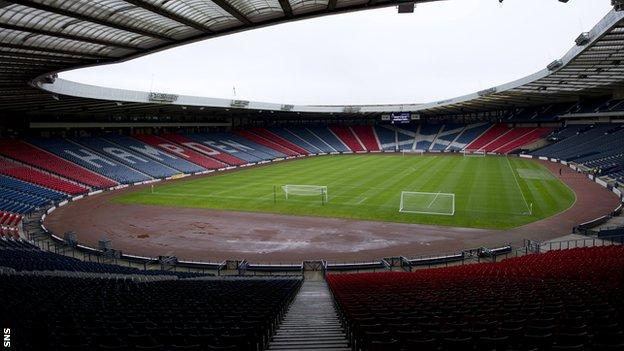 Scottish football chiefs will press the case for Glasgow being one of 13 cities that could host Euro 2020.
But the Scottish Football Association has also not given up on the possibility of hosting the tournament jointly with Ireland and Wales.
Uefa president Michel Platini has proposed the 13-city idea for the championship finals in 2020.
The various options will be discussed when top executives from around Europe meet over two days in Dublin.
SFA president Campbell Ogilvie is attending along with chief executive Stewart Regan, who said: "Platini's proposal is for 13 cities as opposed to one or two countries, or three in the case of Scotland, Ireland and Wales, which was our suggestion earlier in the year.
"The 2020 finals will be the 60th anniversary and they're considering something different.
"Irrespective of the outcome, there is a great opportunity for Scotland, either as the country as a whole or Glasgow putting its hat in the ring to be one of the host cities.
"Either option gives an opportunity for both Scotland and Glasgow.
"Which would we prefer? Well, we don't fully know the model for the 13-city proposal.
"Until we have all the facts, it's hard to answer."
No final decision is expected in Dublin, where Platini will also raise the possibility of the Champions League being expanded to replace the Europa League.