Preston North End: Keith Keane's knee surgery successful
Last updated on .From the section Football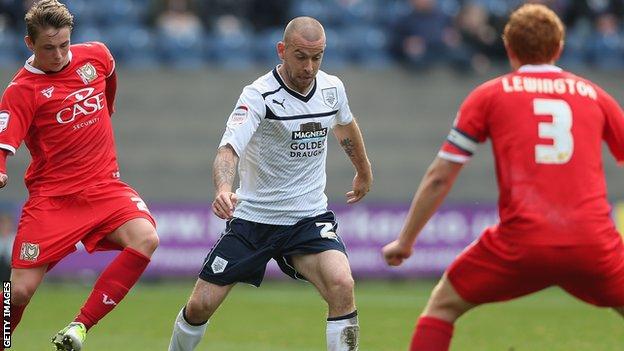 Preston North End full-back Keith Keane has had surgery to repair damaged knee cartilage and is expected to be out of action for around three months.
Keane suffered the injury in the on 20 November.
"He's been under the knife and everything was successful," Westley told BBC Radio Lancashire.
"The news was better than we thought it might be, in that he's probably going to be out for three months rather than the four or five that we suspected."
Preston also lost Scott Laird to a broken leg during the same match, which led Westley to
Primarily a right-back, teenager Kane made his debut on the right side of midfield in the last weekend.
He is available to face League Two leaders Gillingham in the FA Cup on Saturday.
"As a manager, you know that the FA Cup is a financial as well as a footballing issue," added Westley.
"You're playing with a lottery ticket in your hand really. You know you could put £1m in the club's bank account by winning and then getting the right draw in the next round.
"You are playing a game of high stakes and those are situations I've always been able to relish.
"We'll be favourites and rightly so. We're a good outfit, an improving outfit, and Deepdale is a tough place to come to."