Nigel Adkins backs Paulo Gazzaniga as Southampton keeper
Last updated on .From the section Football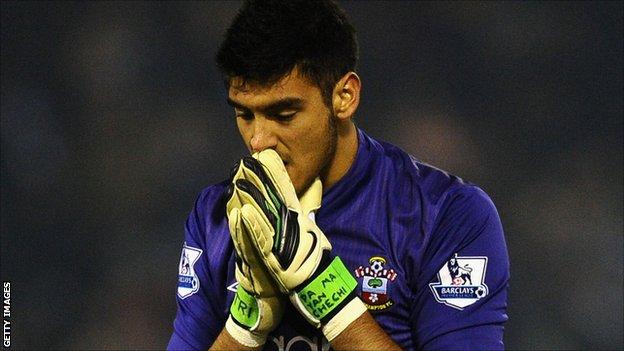 Southampton manager Nigel Adkins has given his backing to under-fire keeper Paulo Gazzaniga after his mistake against Norwich on Wednesday.
It cost Southampton a vital victory but Adkins says the 20-year-old will not be dropped as a result of his mistake.
"I've got every confidence in Paulo Gazzaniga. He is going to be a top, top keeper," Adkins told BBC Radio Solent.
Speaking after Wednesday's game against Norwich, Adkins hinted he may drop the Argentinean for Saturday's trip to Anfield.
"Paulo has got to save it (the free-kick), it changed the game," he told BBC Sport.
"We have three good keepers and we have good competition and he has to save it."
But his stance appears to have now softened as on Thursday he said: "Paulo has got the shirt.
"He made a mistake the other night, but Paulo is great because he is only 20 and he's been big enough to stand up and say 'yeah, I messed up there', but it hasn't fazed him and that is the important thing.
"He has a growing confidence about himself and that's an important thing for us."
Saints have Artur Boruc and Kelvin Davies waiting to replace the former Gillingham keeper, but Adkins says he would prefer to let Gazzaniga continue his development in the side.
"He's got to be allowed to make mistakes so he learns, just don't make the same one," he said
"He is going to grow in strength. Time will tell if we can afford to let him make those mistakes in the Premier League."
Adkins added: "Keepers are under unique pressures as every situation, every goal, every mistake you make is always going to be highlighted more than the saves you make, because you are expected to make them.
"But as a team I think we have been growing as a team and if you look at all the points we have amassed this season he has been in goal for all of them."
Meanwhile, Merseyside-born Adkins says he is relishing his return to Liverpool this weekend.
"It's a dream to play at Anfield and manage there so it's a game I'll look forward to from a personal point of view," he said.
"But I look forward to every game to be honest with you."