Guernsey FC's Ryan-Zico Black vows to come back stronger
Last updated on .From the section Football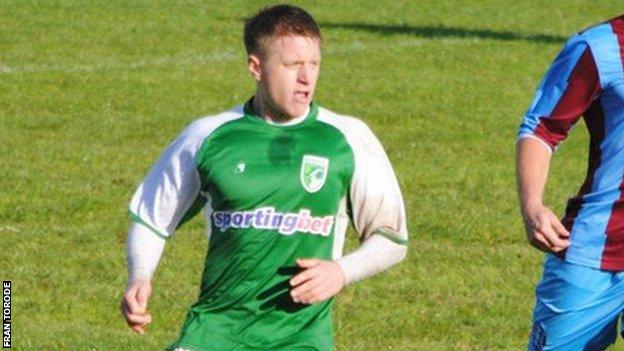 Guernsey FC midfielder Ryan-Zico Black hopes his broken leg will provide the impetus for him to come back stronger.
The former Northern Ireland Under-21 international is out for a year after the double fracture earlier this month.
"I'm devastated that I can't play football for so long," the 31-year-old told BBC Guernsey.
"It's going to be really frustrating, but hopefully I'll come back mentally stronger from this."
He added: "I want to play every minute of every game and I get annoyed being taken off a few minutes before the end of a game, let alone watching for a year or so," he added.
Black has had a metal rod inserted in his leg as opposed to a plaster cast after discussing his options with manager Tony Vance and team-mate Angus MacKay, who have both had similar injuries and had casts up to their waists.
"They'd have preferred the rod going in as it strengthens it and you get more movement in your Achilles and knee.
"It's still a bit sore, but I can do a bit of exercise on it.
"It's getting easier but it's still painful, especially at night, but that first week was just agony," he said.
But more agony followed when he realised that the injury would force him out of an annual charity match with Brazilian legend Zico.
Black was named after the player and was invited by the former Flamengo star's son to play in the game that pits an All Star team against a Brazilian XI.
Last year Neymar took part and the Roberto Carlos and Ronaldo have also featured in the fixture in the past.
"I had sponsorship and everything was arranged - the tickets and accommodation were paid for.
"It was a dream trip really and when I looked down at my leg that was one thing I was gutted about.
"But Zico's son has invited me to go out next year in the newly re-opened National Stadium in Rio, so hopefully it'll be good motivation for me to get back.
"No-one's said I won't play again, which I was worried about.
"Just fingers crossed, people have come back from it in the past and hopefully I can."