Fara Williams only considered Liverpool Ladies move
Last updated on .From the section Football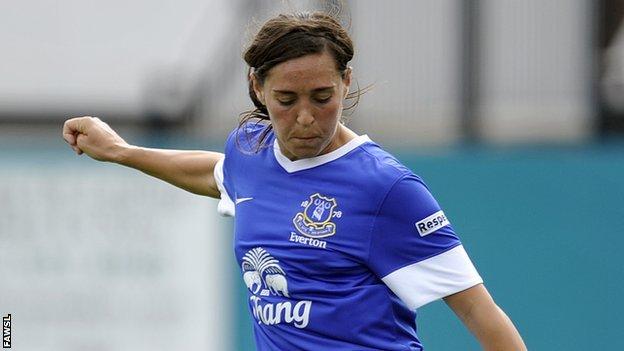 Liverpool Ladies midfielder Fara Williams says the Reds were the only team she wanted to join when she left Everton earlier in November.
The England international made the controversial move following eight years with their Merseyside rivals.
"I didn't even consider any other team, I'm not going to lie," Williams told BBC Sport.
"Liverpool were the team I wanted to join and people knew that. It's happened for me and I'm happy now."
She added: "It was hard, I knew that leaving Everton and going to Liverpool meant there would be things said [about me] but I'm settled on Merseyside and I don't want to be travelling [anywhere else] and I want to be training more."
The 28-year-old has 107 caps and 36 goals for England, but did lose her place in the starting line-up and only made the bench for Great Britain at the 2012 Olympics.
Williams ended the 2012 Women's Super League season as Everton's top scorer with 10 goals, but said: "I think I've need a new challenge for a while and that has shown in my play.
"At the age I'm at, I didn't want to be travelling and Liverpool came up with an offer and is something I didn't look back on.
"Everton will always be in my heart. The things Mo and Keith (Marley) did for me while I was there are beyond words to explain, they helped me in my career but in my personal life too.
"As my football has shown in the last couple of years, it's dipping and at the age I'm at I can't afford it to dip. Myself and Everton have agreed I needed a new challenge, so I'm looking forward to it."