Roma supporters banned after Tottenham fans attack
Last updated on .From the section Football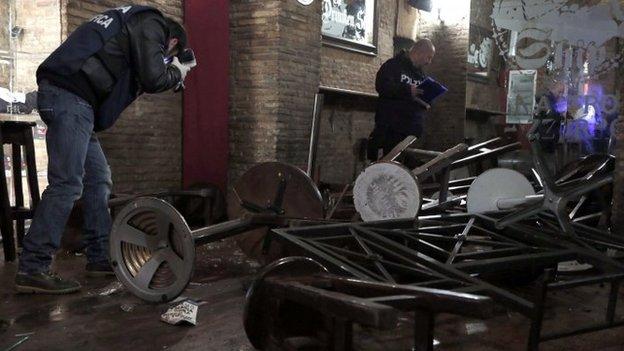 Two AS Roma fans charged after a violent attack on Tottenham supporters have been banned from all sporting events for five years.
Several Spurs fans were injured on the eve of last week's Europa League 0-0 draw with rival Rome club Lazio.
Ashley Mills, 25, of Essex, was stabbed in his thigh and remains in hospital.
Francesco Ianari, 26, and Mauro Pinnelli, 25, had initial charges of attempted murder downgraded to aggravated wounding in court on Monday.
They remain in custody in Regina Coeli prison.
After the attack media suspicion initially fell on Lazio fans, but this was later questioned.
There has been speculation the attack was carried out by a group with anti-Semitic leanings. Tottenham traditionally draw support from north London's Jewish community.
Spurs manager Andre Villas-Boas has already called for Uefa to investigate alleged anti-Semitic chanting during the match at Stadio Olimpico.
Home supporters sang "Juden Tottenham" during the first half of the 0-0 draw. In October, Lazio were fined 40,000 euros (£32,500) following racist chanting at Spurs' White Hart Lane ground.
A statement on Rome police headquarters' official website read: "Agents of Rome police have informed two Roma fans in our custody that they are banned from accessing sporting events for the next five years.
"Francesco Ianari and Mauro Pinnelli were arrested on November 22 for aggression towards some British fans of Tottenham on the Campo de' Fiori after being identified by police a few hours later.
"On that occasion, a group of people, most of them with their faces covered, entered the Drunken Ship pub and attacked some English supporters. Some of them were injured in the raid, one injury being particularly serious."
On Monday, two West Ham fans were arrested and accepted a police caution for anti-Semitic gestures during Tottenham's 3-1 win at White Hart Lane on Sunday.