Nemanja Vidic: Manchester United defender set for return
Last updated on .From the section Football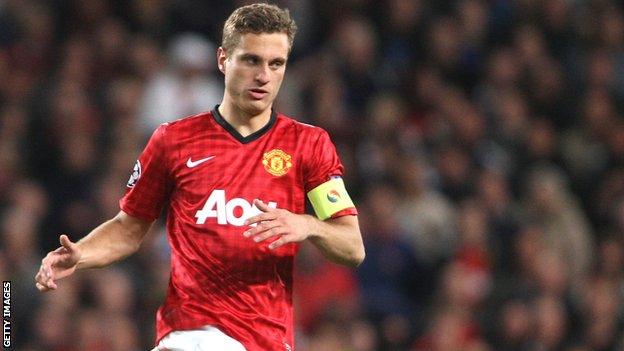 Manchester United manager Sir Alex Ferguson says Nemanja Vidic could make a surprise comeback in next week's Champions League tie with Cluj.
Ferguson said that the Serbia defender could feature in the 5 December game at Old Trafford.
"I wouldn't be adverse to playing him," he told the club's website.
"Good defenders win you the league. It would be nice to play him on Wednesday in the Champions League against Cluj."
Vidic's return will be welcomed by United, who have struggled for clean sheets in the absence of the 31-year-old.
Should he play against Cluj and emerge unscathed, Vidic could feature for the leaders in the derby at Manchester City on 9 December.
"Vidic has probably only played about 10 or 12 games in the last 18 months," added Ferguson.
"He started training during the week and he's done OK. He hasn't been involved in the really competitive part, but at least he's back with the rest.
Former Spartak Moscow player Vidic has played just four Premier League games this season, his last appearance the 1-0 home victory over Galatasaray in the Champions League on 19 September.
Portugal winger Nani, who has been missing since the beginning of the month with a hamstring injury, is facing longer out.
"Nani is going to be out possibly for another four or five weeks," Ferguson said.
The United manager also confirmed Antonio Valencia would miss Saturday's trip to Reading with a hip injury.