Neil Doncaster defends health of Scottish Premier League
Last updated on .From the section Football54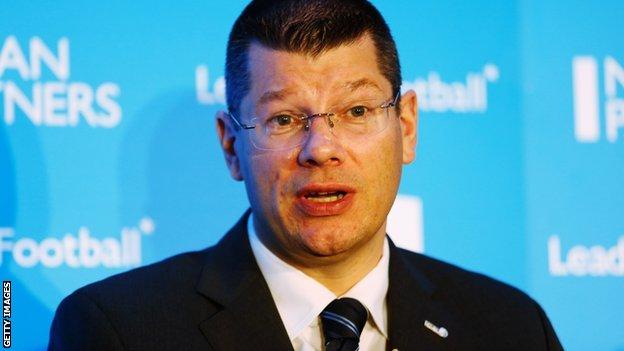 Neil Doncaster has vigorously defended the financial health of the 12 clubs in the Scottish Premier League.
The SPL chief executive admitted to BBC Radio 5 live Breakfast that "there are challenging times within Scottish football at the moment".
But he added: "The last two years, overall, the SPL was at break-even. Twelve clubs, no profits, no losses - that's a great position to be in."
A number of clubs have spoken of their financial problems in recent weeks.
to pay Her Majesty's Revenue and Customs to allay the threat of a winding-up order.
Their city rivals , taking their debt to £6.4m.
And , with clubs getting into debt by spending too much on players' wages as they bid to avoid greater debts by being relegated.
And three weeks ago business recovery firm Begbies Traynor said football finances, across the SPL and the Scottish Football League, were in a worse state than six months ago.
Its spokesman Ken Pattullo said: "The relegation of Rangers has had some impact, but lower attendances and falling revenues, and in particular reducing TV money, has given rise to the distress that is spread across the SPL and divisions one and two."
However, by £5.75m by converting it to preference shares.
Doncaster pointed to the competitive nature of the SPL as a sign of its rude health.
"It needs competitive balance and this year we have it," he told BBC Radio 5 Live.
"We have the top six separated by five points, nearly at the halfway stage.
"Scottish football is renowned worldwide in a very positive light; it's renowned for passion, drama and excitement.
"It's so passionate up here. It's such a big part of people's lives. It is important in England, it's vitally important up here."
Asked if Rangers playing in the Third Division had damaged the league, he said: "Oddly not. I think a number of people were predicting that there would be huge financial difficulties amongst clubs.
"Half of our clubs are showing an increase in attendances this year.
"It's not anywhere near as bleak as it might have been and part of that is because so many of our partners - the Clydesdale Bank, Sky Sports, ESPN - have stood by the SPL and that's why, along with the fans coming through the gates, the game is actually in robust financial health.
"Rangers are where they are. They are in the fourth tier of Scottish football and they will work their way back."