Henning Berg: Blackburn need right mentality for Burnley
Last updated on .From the section Football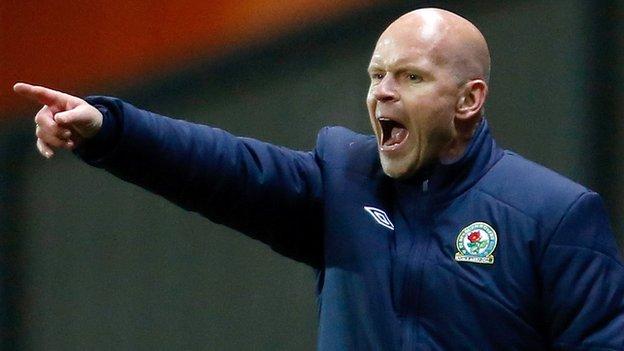 Blackburn manager Henning Berg wants his players to have the right mental approach to the intensity of this weekend's derby against Burnley.
The two sides last met when they were both in the Premier League in 2009/10.
"It's more about their preparation and mental attitude when you go into the game," Berg told BBC Radio Lancashire.
"As soon as the game starts it's football decisions and it's actually what you do on the pitch that will decide how the game is going to go."
He continued: "What happens before and what happens after is a little bit different, but that is something that the player should cherish and be happy that people are so involved."
Rovers have an excellent recent record in the East Lancashire derby, winning the last three matches, while Burnley's last success against their rivals came back in 1979.
The Ewood Park side lie 10th in the Championship, having taken just five points from their first six matches under Berg since he replaced Steve Kean at the end of October.
The 43-year-old Norwegian has warned he may make changes for the game, but understands what it means to players who have grown up locally such as David Dunn, Jason Lowe and Adam Henley.
"Of course the local boys will know more about the history but the rest of the players, they understand these are big games.
"I don't think this game is going to decide how our season is going to be. If we win it, we're not going to end up in the top two or the top six and if we lose it, we can't say we're not going to do it," he added.
"In it's own right, this is a big game, we can get three points but we know what it means for the fans and we know what it means for this area and of course we want to do our best.
"At the same time I expect our players to do their best every time they play."