Andre Villas-Boas warns Luka Modric on Gareth Bale speculation
Last updated on .From the section Football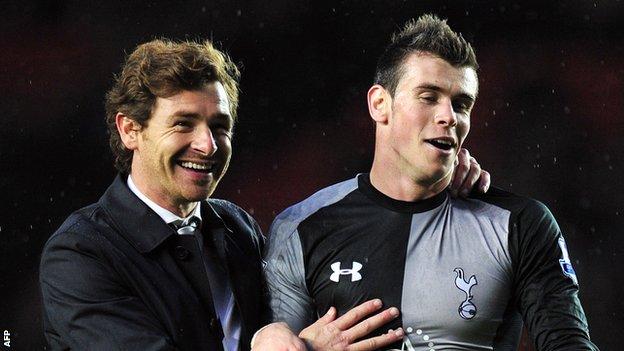 Tottenham manager Andre Villas-Boas has told Luka Modric to concentrate on playing for Real Madrid rather than speculating about Gareth Bale's future.
"I think he should focus more on his club than ours," said Villas-Boas.
"Obviously Modric is aware of Gareth's performances because of his love for Tottenham, but it is completely impossible [for Bale to leave]."
The Wales international has been in sensational form this season, scoring six goals in 13 Premier League appearances, and has been pivotal to the success of a Spurs side that sits one place outside the Champions League qualifying spots.
His talents were on show again in Wednesday night's 2-1 win against Liverpool as he set up fellow wide-man Aaron Lennon for the opener following a pacy burst down the left, before deceiving goalkeeper Pepe Reina with a swerving free-kick to get on the scoresheet himself.
Bale signed a new four-year contract in June, but speculation about his future continues following Spurs's failure to qualify for the Champions League this season.
Modric said Bale should join Real to fulfil his Champions League aspirations but Villas-Boas insisted: "The club has to protect our assets.
"We have to qualify for the Champions League, as Luka says, and for that to happen, we need the players that can make a difference.
"In the end we are not looking to sell. We are first looking to our objectives towards this season and that is the most important thing."
Villas-Boas also highlighted the effect that increased competition for places at other clubs can have on playing opportunities.
Modric, who was guaranteed a starting spot while with Spurs, has seen himself rotated with Germany international Mesut Ozil in the playmaker role at the Bernabeu since joining for approximately £30m in August.
He said: "Regarding Luka, he has high expectations and I think Real Madrid have high expectations for him too. I think with the player that he is, he will turn it around and will manage to get into the team a little bit more."