Sean Dyche wants dominant Burnley show for Blackburn derby
Last updated on .From the section Football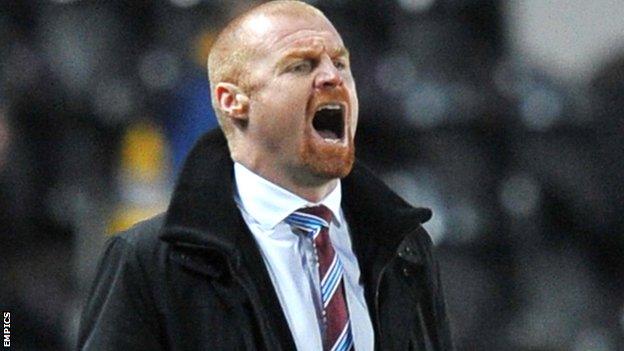 Burnley manager Sean Dyche has called for the club to dominate Blackburn on and off the pitch as they meet in the East Lancashire derby.
The Clarets are looking to end a winless run in the fixture which stretches back in 1979.
"We will be dominating the ground and we want to dominate on the pitch as well as in the terraces," Dyche said.
"Derbies are a fantastic occasion; it's about the football, the fans and everything it brings and it makes for a good game.
"I've had some spicy ones myself and I think it's a great game. It's something to look forward to for the fans, for our players, a full house at Turf [Moor] and a great feel."
It will be the 41-year-old's first Lancashire derby since replacing Eddie Howe, and he's made a steady start taking 10 points from six matches as Burnley boss.
In contrast, new Blackburn manager Henning Berg has taken just five points from his first six matches in charge, but Dyche believes recent form is irrelevant when it comes to a local derby.
"The mentality of theses occasions can often spill onto how the game actually works," he told BBC Radio Lancashire.
"Of course the bragging rights, of course the feel good factor with your fans but from a professional point of view it is just three points, and you want to get as many of them on the table as quickly as you can.
"Within that it is important to have clear minds so I'll be speaking to the players about clear minds and concentrating and focusing.
"Whilst you have to be aware of what the opposition offer you, it's important to remember what we're doing and what we're about.
"We come into it with a good mentality and a nice solid, confidence in what we're doing."