Celtic manager Neil Lennon urges SFA to communicate on ref comments
Last updated on .From the section Football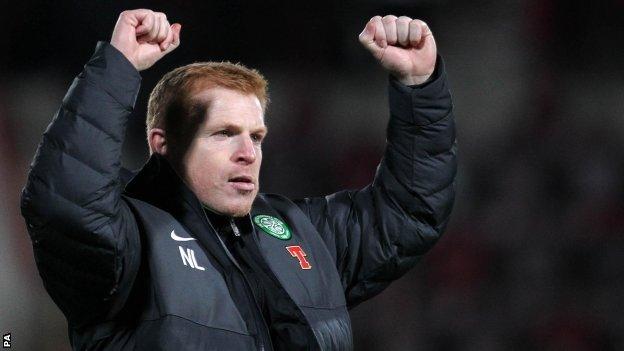 Celtic manager Neil Lennon has urged the Scottish FA to issue guidelines to managers on commenting about referees.
Lennon was speaking at the end of a week where St Johnstone manager Steve Lomas received an eight-match ban.
Kilmarnock's Kenny Shiels faces two charges, one relating to comments in a radio interview with BBC Scotland.
"I don't know where, as managers, we draw the line. We need the disciplinary procedure spelt out to us in black and white," said Lennon.
"The last place you want to be is in the stand, as I know from my own experience," said the Northern Irishman. "Steve, certainly, will learn from this.
"I do have a lot of sympathy for all managers in that situation.
"I was removed from the game at Ibrox last year, unjustifiably so, I felt, and Kenny is obviously feeling that sense of injustice as well."
Lennon thinks that SFA compliance officer Vincent Lunny should communicate directly with managers before more managers receive bans.
"I think Vincent Lunny should come and speak to managers because at the end of the day we are the ones who are brought up in front of him and the SFA disciplinary panel," he said.
"I think Vincent needs to spell out the guidelines, what we can and can't say regarding referees in post-match interviews.
"That would give us a clearer indication and maybe make us count to 10 a little bit more in the heat of the moment.
"You do have a spell after the game when you are speaking to your players and then you go out and speak to the press so you do have time (to calm down) but at times managers tell the truth.
"I don't know if Kenny was offensive in any way in his post-match interview or to the referee, but we will end up talking in cliches then because we will be protecting ourselves."
Lennon will rest some of his players in the Scottish Cup as he gears up for next week's Champions League decider against Spartak Moscow.
Abroath travel to Celtic Park on Saturday for their fourth-round tie.
"It's a question of trying to avoid injuries and making sure the players are well rested in between and fresh for the games," he said.
Celtic need to better Benfica's result in the final round of games in Champions League Group G to book their place in the last 16.
"Recovery time is so short and as a player I used to love these periods: playing, resting and playing," Lennon added.
"We had a couple of scouts watching them against Stranraer and we've tried to cover all bases.
"So we're not treating Arbroath any differently to any other team we face.
"There will be players who play (against Arbroath) who will play on Wednesday night. I'm not going to change 11 players for the sake of it.
"I want us to progress in the competition and I'm not throwing all my eggs in one basket for Spartak Moscow. But there will be plenty of players having a rest between now and Wednesday."