Clint Dempsey's Fulham departure was inevitable - Martin Jol
Last updated on .From the section Football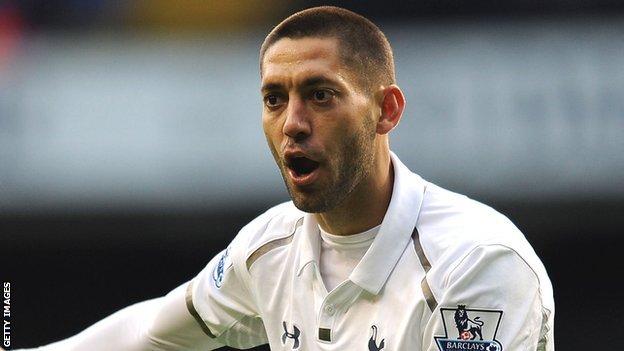 Fulham boss Martin Jol has insisted there was nothing he could have done to prevent forward Clint Dempsey leaving Craven Cottage last summer.
Dempsey, who had less than a year left on his Fulham contract, joined Tottenham in a £6m-move on transfer deadline day.
This week the 29-year-old intimated he could have stayed had he felt more "valued and appreciated".
But Jol said: "We did everything we could do so there are no regrets."
Jol feels that money and the lure of Champions League football were the reasons Dempsey, who will line up for Tottenham against his former club in the Premier League on Saturday, wanted to leave Craven Cottage.
"He wanted to be appreciated financially and he wanted a bigger club, a Champions League club, and that is what he probably got with Spurs," said the Dutchman.
"He didn't feel appreciated financially, but I am not the one deciding over the contracts.
"He said it time after time again that he wanted to go to a Champions League club.
"Even when I said in my last conversation with him that I loved him, it was not good enough to keep him here."
Asked if there was anything Fulham could have done to get make him stay, Jol replied: "No, no.
"You know what he wanted. He wanted to go to a Champions League club.
"If you feel appreciated, you would like maybe to stay at Fulham so there is a contradiction there.
"I think he felt loved but he still wanted to move, but of course I understand what he means.
"From the first day he came back from holiday he didn't want to play here. He wanted to move so of course you can force the issue and then come up with things.
"But hopefully he will get over it and hopefully he will feel loved at Spurs."
Dempsey scored 50 goals in 184 league appearances for Fulham after joining them from American club New England Revolution in January 2007 for a reported £1.5m.
His time at Craven Cottage came to an unsavoury end after manager Martin Jol claimed Dempsey said he no longer wanted to play for the club.
Liverpool expressed an interest in the USA international, who had a year left on his contract, but did not make a formal bid.
Fulham complained to the Premier League about the Merseyside club's pursuit of the player, who then moved to White Hart Lane shortly before the closure of the summer transfer window.
Dempsey will not be the only player making his first Fulham return tomorrow, with Mousa Dembele also set to feature after also leaving the club for Spurs during the summer.
The Belgian international parted on far better terms, but Jol expects both players to receive the same reception from home fans.
"I feel that Dembele was very popular and Clint Dempsey was very popular as well so I think it is OK," Jol said.