David Beckham targets Champions League return
Last updated on .From the section Football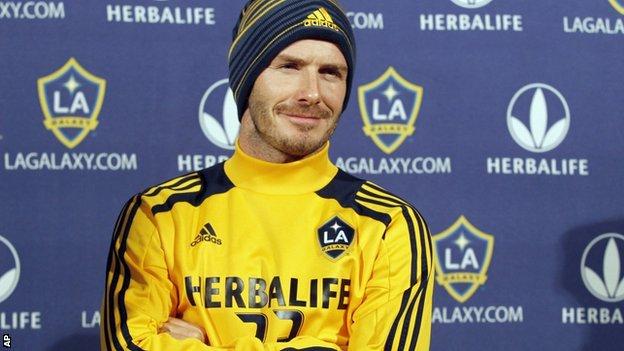 David Beckham says he would like another chance to play in the Champions League before retiring.
The former England captain, 37, will be a free agent after making his final appearance for LA Galaxy in the Major League Soccer final on Saturday.
"I always loved it when I went back to AC Milan being back in the Champions League," he said.
"I still miss playing in it, they are the games you love playing in. Of course I'd want to play in it again."
Beckham, who has been linked with a move to French second division side AS Monaco, added: "We'll see where I go next. If it's a team that's in the Champions League then it will be nice to be back."
The midfielder won the Champions League with Manchester United in 1999 and took part in the competition with Real Madrid and Milan.
He said he has been inspired by the longevity of the careers of two of his former United team-mates - Paul Scholes, 38, and 39-year-old Ryan Giggs.
"It's nice to see them still playing at United," added Beckham, who played at Old Trafford between 1993 and 2003.
"They have had successful careers there and to see them playing like they do is great. I'm 37 years old, the same age as Scholesy, although Giggsy is even older than me."
Beckham will be hoping to sign off his five-year career with Galaxy with a victory over Houston Dynamo in Saturday's MLS Cup showpiece - a repeat of last year's final, when Landon Donovan's solitary goal gave the Los Angeles club victory.
If selected, the Englishman will line-up in the final alongside former Everton loanee Donovan and Robbie Keane, who spent the majority of his career in the Premier League.
It will be the third grand final appearance for Beckham, having also played in the 2009 penalty shoot-out defeat to Real Salt Lake.
Beckham paid tribute to coach Bruce Arena who he feels has played a major role in Galaxy's recent achievements.
"The first year, year and a half was very unsettling and it wasn't a great place to be and then Bruce came in, settled everything down and that's the reason we've had the success we had in the last four years," he said.
"He's a great man manager, he's strong and harsh when he needs to be but he also puts his arm around you and has a joke with you when you need that."
Since Beckham joined from Real Madrid in 2007, the MLS has increased from 12 to 19 teams and seen a 231% increase in merchandise sales.
MLS executive vice-president of communications Dan Courtemanche believes Beckham's impact on the league's growth is incalculable.
"David broke through like no other athlete we have seen in north American soccer. With the global appeal he has he was able to put the spotlight on Galaxy and MLS in every continent on the planet," said Courtemanche.
"We have tried to measure the media coverage and put a dollar value on it, but that is just impossible due to the global appeal David has. His type of impact is invaluable and immeasurable."