5 live Investigates: 'legalised ticket touting' by Premier League clubs
By Andrew Fletcher
BBC Radio 5 live
Last updated on .From the section Football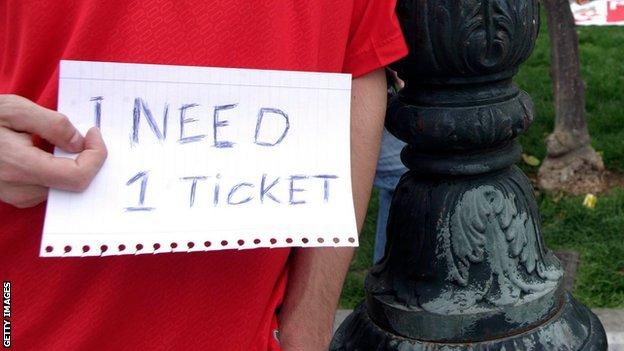 The Football Supporters' Federation says it will complain to the Premier League about deals signed by clubs allowing their fans to re-sell match tickets for a profit.
Ten clubs have formed partnerships with the secondary ticket exchange company Viagogo.
Most of the clubs allow supporters to list their seats for sale at a price above face value. The clubs defend the system as a safe and legal way in which season ticket holders are recompensed for matches they cannot attend.
The chairman of the Football Supporters' Federation (FSF), Malcolm Clarke, says the organisation is concerned by the growth of online ticket exchanges.
"We think it cannot be right that Viagogo are allowed to do something through the internet which, if a fan did outside the ground for exactly the same price, would be a criminal offence and which could lead to a football banning order."
5 live Investigates has spoken to an Arsenal fan who was arrested for touting outside the Emirates stadium in March for selling a friend's ticket to another friend at face value. He spent the night in a police cell and eventually accepted a caution.
Viagogo says its service means that fans no longer have to take that risk, and describes its mission as being "to bring efficiency and transparency to what has traditionally been a murky market place".
But the FSF has concerns that the online ticket exchange may undermine the controls in place through the clubs' own ticketing systems to ensure the segregation of fans.
While most clubs using Viagogo insist that buyers provide a club membership number, four - Aston Villa, QPR, West Bromwich Albion and Wigan Athletic - make no such requirement.
The clubs insist that they check addresses of buyers to spot potential supporters of away teams, and they reserve the right to turn away anyone who has bought a seat in the wrong section of the ground.
Chelsea, whose association with Viagogo began in 2006, prevent their tickets being sold for more than face value, although the re-sale company's fees add about a fifth to the total price.
Manchester City restrict the re-sale price of tickets for the Etihad stadium to 50 per cent above face value.
The Premier League champions also limit the number of matches per season for which a supporter can sell tickets in order to prevent abuse of the system.
Two other clubs, Liverpool and Arsenal, run their own ticket exchanges, allowing fans to sell unwanted seats in return for credits towards their season ticket renewal price.
Malcolm Clarke thinks this kind of arrangement is better for fans. "What we want to see is clubs offering this service themselves, possibly deducting a small administration charge and making sure that the seat doesn't change hands for more than the face value."
The Premier League did not wish to comment about the re-selling of Premier League tickets on authorised websites, saying it was for individual clubs to decide whether to offer such a service and on what terms.
As well as Premier League tickets, Viagogo lists hundreds of seats for rugby union and cricket internationals. The English governing bodies of those sports have taken a dim view of the emerging secondary market.
The Rugby Football Union (RFU) took Viagogo to court in March 2011 to demand the details of people re-selling tickets for England internationals. On 21 November 2012 the Supreme Court ruled in favour of the RFU.
In a statement, the RFU's Chief Commercial Officer, Sophie Goldschmidt, said: "Selling tickets through secondary ticketing sites is against our terms and conditions and allows prices to be inflated, preventing many of our supporters from purchasing them.
We now plan to identify such sellers and take tough sanctions to keep our tickets off secondary ticket sites and in the right hands."
The case will encourage the England and Wales Cricket Board (ECB), which has promised to cancel tickets to next year's Ashes test matches and ICC Trophy games which have been re-sold on Viagogo and other ticket exchanges websites.
The ECB says it has already cancelled 50 tickets for the Ashes series and it is employing a team of specialist solicitors to monitor the sites.
Ed Parkinson, head of marketing at Viagogo, believes that the secondary ticket market will inevitably grow and authorities such as the ECB and RFU would be better working with the websites as football clubs are doing.
After there were empty seats at some sold out Olympics events, he says "that shows what happens when you can't resell. There needs to be an efficient re-sale mechanism.
"We've been through a consultation with the Department of Culture, Media and Sport and the government supports the position we take."