Anouma set to challenge Hayatou
Last updated on .From the section Football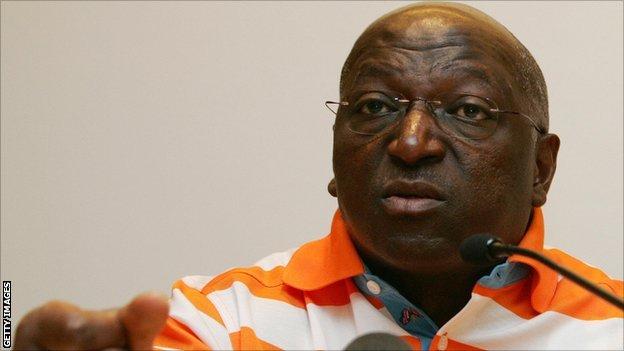 Fifa executive committee member Jacques Anouma plans to stand against incumbent Issa Hayatou for the presidency of the Confederation of African Football.
The elections are scheduled to take place next March in Marrakech, Morocco.
A statement from the Ivory Coast Football Federation said it was nominating Anouma as a candidate.
The 60-year-old Ivorian's name, the statement added, would be submitted before the 9 December nomination deadline.
However, it is not yet clear whether Anouma will be able to run after Hayatou, 66, engineered a change in the Caf statutes that allows only voting members of its executive committee to run for the presidency.
The change was overwhelmingly approved at a special Caf Congress in the Seychelles in September.
Anouma is a member of Caf's executive committee only because he serves as one of the continent's representatives on the Fifa executive.
Although he attends Caf meetings, he does not have any voting rights.
But in a series of recent media interviews, Anouma has said the amendments passed were not legal and has been seeking to challenge their validity.
An attempt by Liberia, one of a handful of countries to vote against the amendment, to overturn the changes was rejected by the Swiss-based Court of Arbitration for Sport on Friday because Caf's own appeal systems has not been exhausted.
Anouma, a former president of the Ivorian Football Federation, has long been touted as an alternative to Hayatou, who has been the head of African football since 1988.
Hayatou, from Cameroon, has twice before faced elections but kept his post easily with crushing wins.
Despite recent medical problems, he has said he wants serve another term until 2017.