Arsenal: Arsene Wenger faces toughest test

By Phil McNulty
Chief football writer
Last updated on .From the section Football443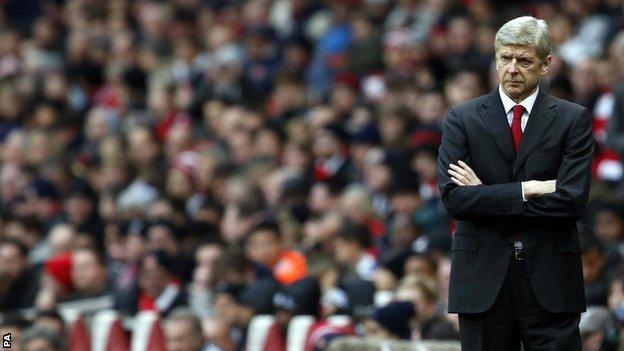 Arsene Wenger insists he will only assess his future at the end of the season while there is no suggestion that Arsenal's board are even contemplating a change of manager.
And yet before, during and after on Saturday there was the growing sense that a pivotal moment has been reached in the reign of a man who will forever be regarded as one of the club's iconic figures.
It is widely accepted Wenger's legacy means he will only leave Arsenal on his own terms but rarely, if ever, has he had to listen to such criticism of his team and himself as he did after Saturday's loss.
The Black Scarf Movement of Arsenal fans protested before the game at the manner in which the club is being run while on the pitch they produced the sort of performance that will only intensify the increasing sense of unease around Wenger.
Wenger compiled such a list of successes up until 2005 that even when the supply ran dry he would always be able to draw on a rich reservoir of goodwill to sustain him through the barren times.
The harsh words aimed at club, team and Wenger as they strive to end seven years without a trophy - culminating in Saturday's march and the toxic reaction from fans at the final whistle - suggests supplies are running low.
In Wenger's defence, it must be stated that Arsenal have already secured a place in the last 16 of the Champions League for the 13th successive season, are in the last eight of the Capital One Cup and even though they currently lie 10th in the Premier League they are only five points away from Tottenham in fourth place.
This is the same Spurs team Arsenal thrashed 5-2 in the north London derby only two weekends ago - a piece of context Wenger will use to frame the current wave of criticism heading his way.
The bad news heads his and Arsenal's way when it comes to complaints about the direction of the club and of the widening distance between the Gunners and Manchester United and Manchester City, clubs they and their supporters rightly regarded as natural rivals not so long ago.
And while Arsenal's stability is in the starkest contrast to the regular chaos at Chelsea, Wenger's past successes will not guarantee him permanent security in his post or shield him from an increasing number of supporters who are demanding change.
The change they demand is not necessarily a change of manager but in the manager they have - but is Wenger capable of such change and adjusting to these demands at 63 and with 16 years at Arsenal behind him?
Arsenal's plight is their worst under Wenger, not only for the lack of hope and optimism that the games big prizes will come eventually come back into view but also because of fan fears about the direction of the club, even though majority shareholder Stan Kroenke recently emphasised his "goal is to win trophies."
Kroenke added: "The reason I am involved in sport is to win. It's what it is all about. Everything else is a footnote. I can assure you no-one is more ambitious than me."
He will need to prove the scale of his ambition to those wanting Arsenal to join the real big spenders but now it is Wenger's position that is coming more sharply into focus.
Increasingly, Wenger appears to miss the wise counsel, advice and transfer market wisdom of former vice-chairman David Dein, who left the board in April 2007. Wenger trusted Dein completely and in return Dein was able to offer the sort of advice Wenger would always listen to.
No admirer of Wenger, and his body of work rightly makes him one of the game's most respected and revered personalities, will have enjoyed the sight of him standing alone in his technical area on Saturday as boos cascaded down from the stands.
But brutal reality states that Arsenal are now irrelevant when it comes to potential title winners. This is the club's worst start to a Premier League season under Wenger with 21 points after 15 matches and only in 1994-95 have they had fewer points in the Premier League era, when they collected 19 points from the same amount of games.
And the question being asked is whether Wenger has the fire and will to bridge the gap and whether the club's hierarchy is set up in a manner, and has the necessary ambition, to help achieve it.
Match of the Day pundit Alan Hansen laid the situation bare as he said: "Arsenal are in a bit of trouble. He's got to spend and spend big.
"He definitely needs two full-backs, a holding midfield player and a centre forward - but where do you get them from and how much will they cost? He needs to do it and do it quick."
Chief executive Ivan Gazidis is a particular target for the discontented and perhaps typifies the "jam tomorrow" attitude that grates with so many supporters who would like a bit of bread and butter today.
He recently told the club's shareholders: "In the next two years we will have the financial resources to sit and compete among the leading clubs in the world, which is an extraordinary achievement."
Fine words - but the flaw in Gazidis's grand plan is that the world's leading clubs are hardly like to stop their own development for two years to give Arsenal a chance to catch up.
Arsenal's fans have seen a drain of the club's top talent in recent years, with players of the calibre of Cesc Fabregas, Samir Nasri, Alex Song and Robin van Persie all moving on - the latter painfully to Old Trafford.
The decision to sell Van Persie for £24m made sound financial sense given that he was entering the final year of his contract and had announced he would not sign a new one, but Arsenal's claim that it was a footballing decision had no sound basis in logic.
And they have not been replaced with similar quality. The hapless Gervinho continues to look a world away from the sort of class Arsenal used to boast in the past in the shape of the likes of Thierry Henry and others, while Lukas Podolski has not produced enough.
Standards have dropped and for all Wenger's undoubted mastery of the past they have dropped on his watch. Those who criticise Wenger appreciate what he has achieved and there is no-one else they would wish to achieve it again - but these are undoubtedly troubled times and unless matters improve swiftly it is inevitable more scrutiny will fall on the manager.
Wenger's sure touch in the market, not only of who to buy but when to sell, has slipped in recent years. January is a time for Arsenal's board to back him to show he can rediscover that old magic. How successful he is may shape his own long term future at the club.
Wenger will count on young British talent such as Jack Wilshere, Alex Oxlade-Chamberlain, Carl Jenkinson and Aaron Ramsey - and perhaps Theo Walcott - but Arsenal need so much more before the major trophies can once more be considered attainable.
Arsenal and Wenger have long since stated that money was available for transfers but their ambition has paled when set alongside those their supporters feel they should be rivalling and the latest contract impasse with Walcott has not calmed those fears.
Wenger hinted at adjusted - and lowered - targets when he suggested simple qualification for the Champions League should now be placed on a par with winning a trophy. It was a stark statement from a manager who has won the league and FA Cup double twice and was a losing finalist in the Champions League in 2006.
Is this obviously reduced circumstance the sort of "success" Wenger really enjoys or actually wants, having created double-winning teams and Arsenal's legendary "Invincibles", who completed the 2003-2004 season unbeaten in the Premier League?
Wenger's future at Arsenal could be measured by how he responds to these criticisms and challenges.