Managar Michael Laudrup hails Swansea City's 'fantastic week'
Last updated on .From the section Football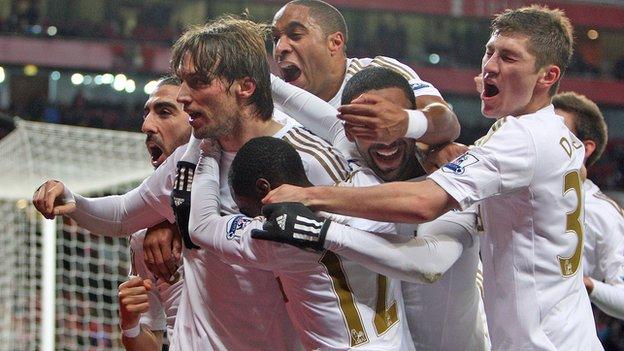 Michael Laudrup has paid tribute to a "fantastic week" for Swansea City after his team's 2-0 win over Arsenal at Emirates Stadium.
Their triumph against the Gunners took Swansea's points tally to seven in six days.
It is a sequence that has lifted them to seventh in the table, and thrilled manager Laudrup.
"Seven points against Arsenal away, Liverpool and West Brom - I think it's been absolutely outstanding," he said.
"A fantastic result, another great performance. I knew we would play well against one of the big teams so it was easy to be motivated.
"Once more this week we've played three games, I think it's been a fantastic week for us. Three good games, each one better than the previous one."
Swansea were once again inspired by Michu, a £2m summer signing from Spanish club Rayo Vallecano.
He scored twice in three minutes near the end of the game to sink Arsenal, and take his Premier League tally to 10 for the season.
Both his goals at the Emirates were coolly taken after he had been put through one-on-one with the goalkeeper.
But Laudrup was refused to single out Michu, despite the Spaniard being regarded as one of the bargain signings of the Premier League season.
"We talked so many times about the amounts and the figures Swansea paid for Michu," he said.
"He's a great finisher, a great worker, but I mean [it's about] the team, right now everybody's playing at a very high level which is great to see. It's just great."
Laudrup also believes his team reaped the rewards of their good results against West Brom and Liverpool before travelling to face Arsene Wenger's team.
"What I said to the players after the last two performances at home against Liverpool and West Brom with four points in the bag we knew that we didn't have any pressure," said Laudrup.
"All the pressure would be on Arsenal because they needed a win."