Celtic manager Neil Lennon upbeat ahead of Spartak clash
Last updated on .From the section Football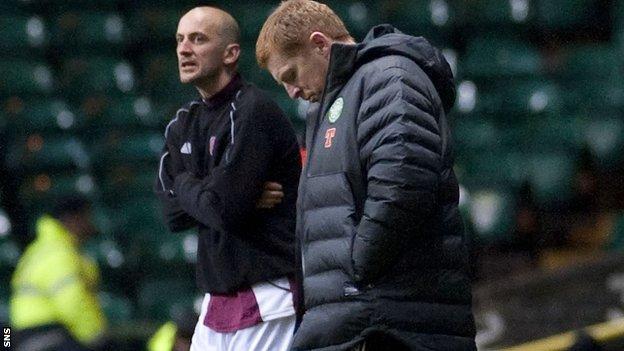 Celtic manager Neil Lennon insists his side are ready for Spartak Moscow despite drawing at home to Arbroath in the Scottish Cup.
Lennon made nine changes for Saturday's 1-1 draw, with Wednesday's Champions League match in mind.
"Wednesday night will be a different opposition, a different team out and a different atmosphere," said Lennon.
"We have to rise to the occasion. We have to win the game. It's got nothing to do with today."
A late Steven Doris equaliser prevented Celtic a straightforward passage to the fifth round, after the home side had earlier taken a lead through Alex Keddie's own goal.
"We should've won the game. We didn't but we're still in the cup so we'll look forward to the replay," Lennon told BBC Scotland.
"We've hit the bar, the keeper's made a couple of great saves and we dominated possession, so it's not as if we weren't trying to score.
"They get a deflection for the goal and that happens in football.
"We move on. We've got a big game [against Spartak Moscow] on Wednesday night to look forward to and we'll address the replay when it comes."
Lennon did express his disappointment, however, that those drafted in for first-team duty against Arbroath did not finish off the job by ensuring the victory against part-time opponents.
"People are wanting to play and people want me to use the squad," he said.
"I've done that today and some have come up short, so I will maybe need to draw on some of the more experienced players from now on.
"We felt we had a good team out today. Some players haven't played for a while and they'll have felt the benefit of getting the 90 minutes work in.
"But to draw at home is disappointing to say the least.
"We've had players who have had the benefit of the weekend off and will hopefully be fresh for Wednesday night."