Arbroath manager Paul Sheerin revels in Celtic Park heroics
Last updated on .From the section Football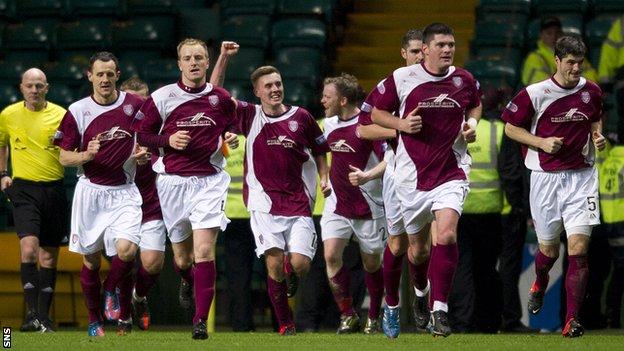 Arbroath player-manager Paul Sheerin hailed his team of part-timers after their Scottish Cup draw at Celtic Park.
The Second Division side scored a late goal through Steven Doris to earn a replay at Gayfield Park on 12 December.
But, despite praising a "mammoth" result, Sheerin insisted that league success would be a bigger result.
"We've not won a title, but for a one-off game it's an incredible result," said the 38-year-old. "For a one-off game it's obviously huge."
Responding to a comment from chairman John Christison that it was the biggest result in the club's history, Sheerin disagreed.
"The club haven't won a title," he said. "So I'm afraid I'd have to disagree with the chairman on that one.
"To win a title against Montrose was a massive game."
Arbroath gifted Celtic a strange own goal, with Stewart Malcolm hammering a clearance from the byline off the back of fellow defender Alex Keddie and into the visitors' net.
Celtic missed several good chances but could not find anothher way past in-form keeper Scott Morrison.
And, with four minutes remaining Steven Doris shocked the Scottish Premier League leaders when his deflected free-kick from 25 yards ended up behind stand-in keeper Lukasz Zaluska.
"It's massive for the club," continued Sheerin. "Financially, given the current state of where Scottish football's in, every little helps - or every big bit helps.
"The fans today were incredible, and to give the fans a result like this is unbelievable.
"I'm not daft enough not to realise that we were outplayed for big parts of the game, but we asked them to be disciplined and stay in the game as long as possible.
"They did that, and I knew we'd get a chance. I couldn't have asked for any more from any one of them to be honest."
Sheerin, who scored a penalty in Inverness's famous 3-1 Scottish Cup victory over Celtic in 2000, said he had passed on his experience of that game to his players.
"It's a great feeling," he enthused.
"I said to the players, I've had some great results in my time on one-off games.
"But this is the best I've felt - to take a group of players and manage to get a result like we have today, against the Scottish champions - a team that's not long ago beat Barcelona here - it's absolutely mammoth."
Looking ahead to the replay, he added: "We'll prepare as well as we can, then we'll see what happens.
"The bottom line is that they should be beating us, but we'll give it a go that's for sure."