MK Dons v AFC Wimbledon: Karl Robinson keen for healthy rivalry
By Chris Osborne
BBC East Sport at Stadium MK
Last updated on .From the section Football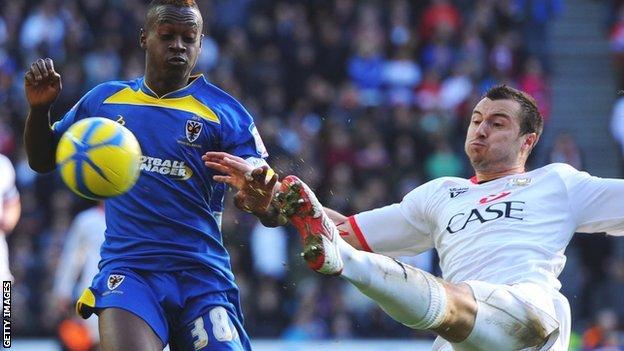 MK Dons boss Karl Robinson hopes a healthy, long-lasting rivalry can exist with AFC Wimbledon after winning the first ever game between the two sides.
"I hope we can all make this - the whole nation - a rivalry that we always look forward to," said Robinson.
"It might not be liked in certain circles. I'm not too sure it will be one they [AFC] will be too happy to see again, but I would be."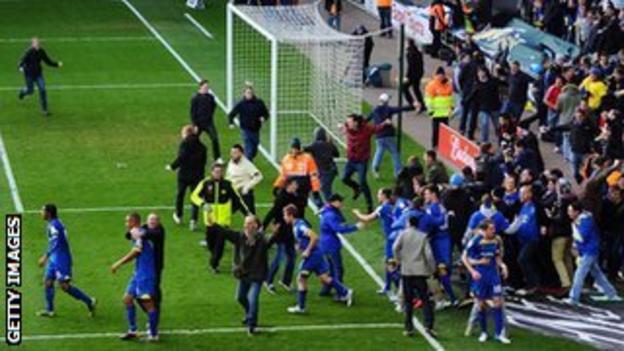 The build-up to the game focused on the history of the two clubs, with AFC formed 10 years ago by supporters of the old Wimbledon FC in protest of their team's eventual move to Milton Keynes.
Resentment, particularly from the AFC side, has persisted to this day and both contingents showed solidarity to their clubs with banners.
AFC fans used a chartered plane to carry a message reading "We are Wimbledon" and MK supporters brandished a sign saying "We are keeping the Dons. Get used to it" - a reference to the nickname of the old Wimbledon.
AFC Wimbledon boss Neal Ardley was less optimistic about the fixture becoming a rivalry his club would look forward to.
"I think from the fans' point of view they will never forget," he said. "It's a milestone that they've got this out of the way - the first ever match in a big cup competition.
"I'm proud of the club for where we've come from in the last 10 years. This moment that our fans have dreaded has come and gone and I think it's been a big celebration towards our club.
"This is a celebration of how far we've come in a short space of time and I think that's what it should be."
Emotions boiled over at Stadium MK when AFC supporters entered the pitch after Jack Midson's equaliser and a smaller number of MK fans followed suit when John Otsemobor flicked in a dramatic late winner.
Despite the two incidents, which are likely to be investigated by the Football Association, Robinson said both clubs could be proud of how they represented themselves.
"Two sets of fans entered the field, which you can't condone. But not one fan attacked or physically went towards any player," he said.
"Football fans in general have had an awful lot of criticism over recent months and I think it was just passion boiling over on to the pitch. This was a good day for English football."
Ardley, a former midfielder for Wimbledon FC, who left before the club was uprooted to Milton Keynes, added that the build-up to the game had taken its toll.
"It's been draining. They're probably feeling the same," he said. "You've got to enjoy the spotlight, that's what you're in the game for. But by the end of this week it's been tiring.
"It's happened now. Both clubs need to move on and AFC need to try and progress and make sure that next time there's a meeting there's not so much of a gulf between the teams."