Rangers call for joint SPL & SFL talks over league reconstruction
Last updated on .From the section Football
Rangers' Charles Green has called for all-inclusive talks on reconstruction ahead of the latest Scottish Premier League meeting on revamping the game.
The SPL and Scottish Football League have drawn up significantly different plans to change the league format.
While the SFL has proposed leagues of 16, 10 and 16, the SPL is considering two top leagues of 12.
"There are merits in both, but it needs all the clubs to sit down," said Rangers chief executive Green.
But Green warned the SPL not to assume that SFL clubs would want to join their ranks should they pursue a second division of their own.
"I'm not sure SFL clubs will rush to join the SPL," he told Rangers' website.
"There is a big sense of injustice about how they were being told what to do over where Rangers should go and we all saw the outcome of that."
The SPL had rejected the application for membership from Green's consortium after the club's previous administration went into liquidation.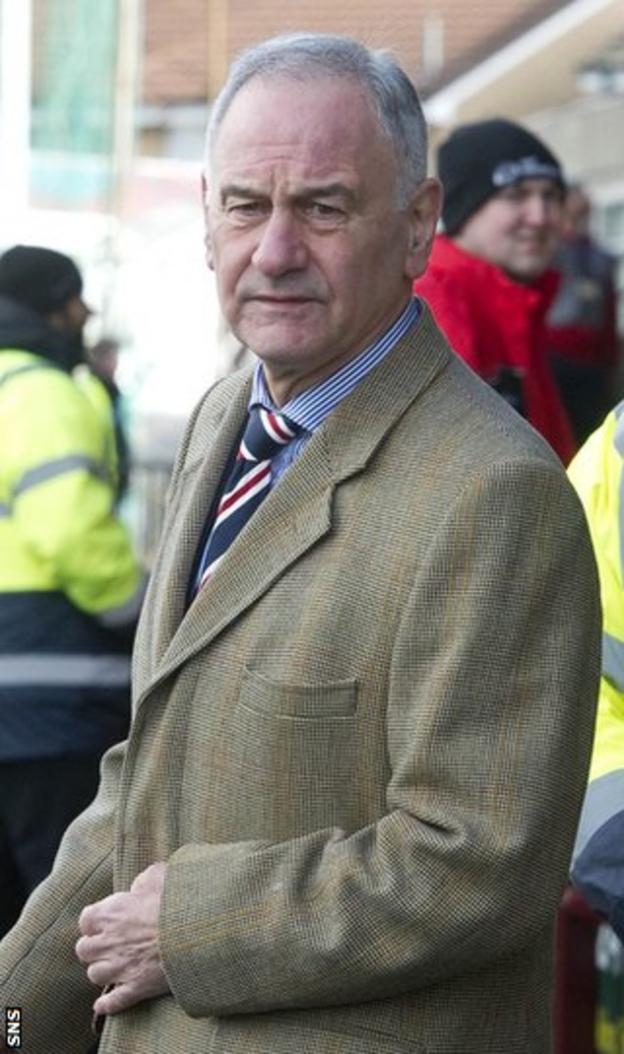 Fearing a loss of finance generated by Rangers' large support, some within the SPL hoped that they would return quickly to the top flight.
"They were told to put Rangers in the First Division and, quite rightly, the SFL clubs didn't listen and put us in the Third Division and we are happy to be there," Green said.
"So I think people have read it wrongly once and they need to learn from their mistakes and get it right next time."
The 30 SFL clubs last month unanimously backed plans for a 16-10-16 structure, but that is unlikely to be adopted by the SPL at its meeting starting at 1000 GMT.
After the SFL revealed its plan, SPL chief executive Neil Doncaster said the 12 top-flight clubs had all backed plans to expand its own membership.
However, it is unclear how much support there is for a plan for the two divisions to split into three groups of eight midway through the season, or what would happen to to those clubs left out of that structure.
Some believe it might be possible to achieve the 11-1 majority required to pursue the plan, although no final decision will be made until a later date.
The SPL is meeting on the backdrop of the resignation from the board of Dundee United chairman Stephen Thompson last week.
Thompson cited "professional differences" as he became the third board member to step down in six months following St Johnstone chairman Steven Brown and Motherwell director Derek Weir.
Despite the differing plans from the two leagues, Scottish Football Association chief executive Stewart Regan last week said he was encouraged with the common ground secured in talks with both bodies.
Green, who repeated his personal stance of refusing to join the SPL in protest at the rejection of his club's application in the summer, also called for an outsider to help with reconstruction.
Plans put forward by former First Minister Henry McLeish in an SFA-commissioned review two years ago, which included top-flight play-offs, have not yet been introduced.