South American football's obsession with drama
By Tim Vickery
BBC Sport, Rio de Janeiro
Last updated on .From the section Football43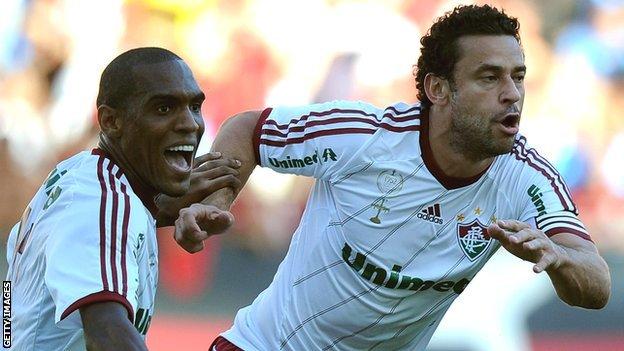 During breaks in the play, Peruvian TV loves to show a quick compilation of the game's outstanding fouls, so that fans of gratuitous violence can enjoy a special treat.
Founded as recently as 2009, Garcilaso have enjoyed a meteoric rise. They are still entitled to dream of their debut title - but they will have to do it the hard way after losing the first leg 1-0 at home to Sporting Cristal.
It was a disappointing result in their home city of Cuzco, where they might have hoped that the altitude would tip things in their favour. Their main threat all season has been their splendidly named centre forward, Andy Pando, by some distance the top scorer of the championship.
In the event, though, Cristal's three centre backs and their deep defence deprived Pando of time and space, and he made little impression.
Cristal have been outstanding all year, and in front of their own fans in Lima in the second leg they are strong favourites. Garcilaso and Andy Pando would seem to be waving goodbye to their title hopes - especially as a victory by more than a single goal would not be good enough. Goal difference is not a factor in this final.
A win by one goal is worth the same as a win by 10. If the teams are locked on a win apiece, whatever the margins, then a third game will be played - and Cristal, who have accumulated more points through the year, are entitled to name the venue.
This set up - the championship culminating in a final, which may stretch to three games - is a clear attempt to manufacture drama. It is done to avoid what has happened in Brazil this year - after years of varying formats, the 20 first division teams now play each other home and away in a classic league format.
This system has serious advantages - not only does it reward the best side, it also keeps all the clubs in operation for the entire duration of the season. But it comes at a price. There is no guarantee of last-gasp drama.
This year Fluminense wrapped up the title with three games still to go. Sunday's last round was something of a damp squib - there was very little left to play for. One Brazilian TV executive despises this league format and never ceases to complain about it. He gave a speech at the Soccerex trade fair last week which could be paraphrased as "I don't mind if the format is not fair, I want it to be exciting."
This tension - between the justice of a league system and the drama of sudden death matches - is frequently apparent in South American scheduling. Almost all over the continent the year is divided into two halves, so that two separate championships can be staged in a bid to keep interest levels high.
In Ecuador, where there are only 12 first division clubs, it is possible to stage two separate home and away leagues, with the idea being that the two winners meet each other at the end of the year in a two-legged final. That has been scuppered this year by the fact that Barcelona of Guayaquil won both phases.
Paraguay also has 12 clubs, and has separate leagues without an overall final. There is no lack of drama this time, as with two rounds to go there is only a point between the top three, Libertad, Nacional and Guarani.
Argentina also has two annual championships, where the 20 teams meet each other once. Until now there has been no overall champion. That now changes. The winners of the second tournament in 2012 will meet those of the first in 2013 in a grand final. The first team in have already been decided - on Sunday Velez Sarsfield wrapped up the title with a round still to go.
Colombia and Chile try something more exotic. In Colombia the 18 teams play each other once - with an extra round of local derbies. The top eight then go through to the play-offs, where they are divided into two groups of four. They meet each other home and away, with the winners of each group meeting in a two-legged final.
The top eight in Chile also make it through to the play-offs, but in this case it is straight home and away knockout all the way to the final, with the side who finished first in the league stage meeting the team who came eighth, and so on.
This can be incredibly dramatic. Last July little O'Higgins were seconds away from their first ever title. Then Universidad de Chile scrambled a stoppage-time equaliser, O'Higgins froze in the penalty shoot out and 'la U' claimed their third consecutive title.
They will not be winning a fourth. In the second leg of their quarter-final they only needed a draw against Union Espanola, and seemed well on their way when they were a goal up at half time. But Espanola struck back, got in front and then scored twice in stoppage time to record a memorable 4-1 victory.
The big rivals of 'la U' are Colo Colo, who did manage to make it through to the semi finals - but only just. At 2-1 up at home to Audax Italiano in their quarter-final second leg they had a three goal cushion. Audax scored four. In one of the most exciting finishes I can recall, Mauro Olivi scored two terrific late goals to save Colo Colo - who then fell in the semis to the in-form Union Espanola.
Their opponents in the final will be Huachipato, who can boast two of the players of the tournament in Uruguayan striker Braian Rodriguez and left winger Cesar Cortes. After the league phase Huachipato and Espanola were sixth and seventh respectively. Their presence in the final might not be strictly fair - but they have come good at the right time and should produce a memorable occasion.
If so, there will be plenty in Chile who will regret the switch next year to a straight league format.
Any questions on South American football? Send to vickerycolumn@hotmail.com and I'll pick out a couple for next week.
From last week's postbag;
I have a question regarding Millonarios of Colombia. I noticed that they played Tolima in the domestic play-offs on Wednesday and won 3-0 but then I was amazed the next night to see that they were playing Tigre of Argentina for a place in the final of the Sudamericana 24 hours later. Did they play two completely different teams? It's a great credit to them to have only been knocked out on away goals! Giancarlo Fiesco
It is crazy scheduling, and a drawback of the whole play-off system - there are so many games to fit in that it's not possible to conciliate domestic and international matches.
Millonarios have a deep squad and were able to pick two almost entirely different sides - the reserves beat Tolima and then the first teamers came back to face Tigre - and also win against Pasto on Sunday. They can't win the Sudamericana, but their first domestic league title since 1988 is still a possibility.