Sheffield Wednesday players not at fault - Dave Jones
Last updated on .From the section Football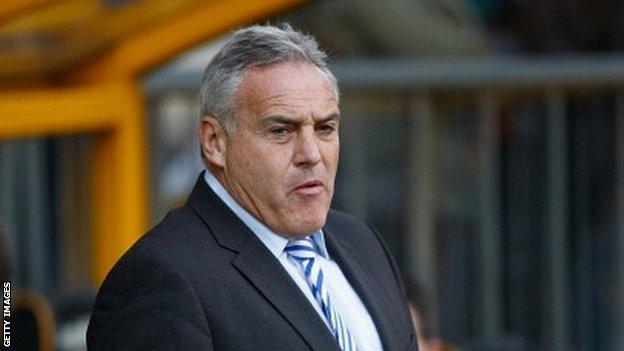 Sheffield Wednesday manager Dave Jones insisted his players could not be faulted after going down to a sixth consecutive Championship defeat.
The Owls were beaten 1-0 at Cardiff on Sunday, despite producing one of their best performances in recent weeks.
Jones told BBC Radio Sheffield: "You couldn't fault anybody out there, they all worked their socks off, they all tried to do the right things.
"It's going to be tough for us, but we haven't changed our thinking on that."
The result means Wednesday stay second bottom of the Championship with just 15 points from their first 20 games. But Jones shrugged aside a suggestion his side had been unfortunate not to bring an end to Cardiff's perfect home record this season.
"You make your own luck at the end of the day, I rely on the lads I put out on the pitch to go out there and deliver, that's the way it's always been and it'll never change," he said.
"The players did everything we asked of them and it got us into a drawing position that could have been turned into a win. What we didn't do was turn the draw into a draw, we let it slip away, and how many times have we said that this season? But goals change games, and unfortunately today it's another they've scored and we haven't.
"It can get frustrating because sometimes you're saying the same thing to the same players and it can become a little bit hard for you. One lapse in concentration cost us, and they're better than that, they shouldn't be switching off."
Wednesday now face successive games against fellow relegation candidates Bristol City and Barnsley.
"That's why it was important to get something today, because it sets [those games] up. But listen, it's going to be tough for us, we knew it and it hasn't changed our thinking about that," said Jones.
"It's a hard division but if we'd have got a win [against Cardiff] we'd have been out of the bottom three, and that's how it's going to be for the rest of the season."