Jose Mourinho: Real Madrid boss dismisses quit report in paper
Last updated on .From the section Football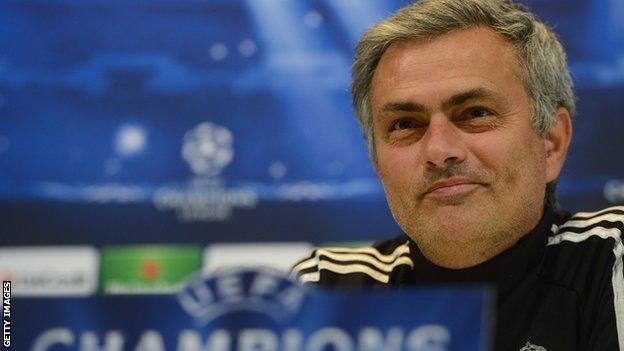 Jose Mourinho has dismissed a report in Spanish paper Marca that he will leave Real Madrid at the end of the season.
The Real coach has been jeered by the club's fans following a slow start to the season that has seen them fall 11 points behind Barcelona after 14 games.
Marca's report said the relationship between Mourinho and Real president Florentino Perez had become "exhausted" and "cannot continue beyond 30 June".
Mourinho said: "I am not speaking about this", adding "there's no story".
Madrid-based paper Marca, which is known to have strong links with Real, ran its story under a picture of a broken heart.
In it, Marca related that Perez believes Mourinho is "committing suicide" after the Portuguese chose to appear at the side of the Bernabeu pitch to hear the frustrations of supporters 40 minutes before Saturday's 2-0 win over second-placed Atletico Madrid in the Primera Liga.
However, Mourinho, who was speaking at a news conference before Real Madrid's Champions League game against Ajax on Tuesday, said: "I came on the pitch before kick-off because I prefer for people to protest at me before the match starts."
Perez is also reported to be concerned over Mourinho's handling of Sergio Ramos, who put on Mesut Ozil's shirt under his own in a move that the Spanish defender claimed was showing support for his team-mate but was widely perceived as attempting to undermine his manager. Ramos was later dropped.
Mourinho also had a public spat with reserve-team coach Alberto Toril, accusing him of focusing too much on results rather than producing players for the first team.
When asked whether he was leaving at the end of the season, Mourinho, who is in his third year at Real, said: "Speak to your colleague about it, the one who has written the story.
"Organise a meal with that person. I am not saying a single word."
Mourinho went on to say that he had a "good relationship" with Perez and that he would not comment further on the story because he did not want to add to it.
The 49-year-old, who has also managed Porto, Chelsea and Inter Milan then batted away questions linking him with French side Paris St Germain, saying: "The only thing I'm thinking about regarding PSG is the fact they could face us in the Champions League.
"An assistant of mine is going to watch PSG play Porto on Tuesday. One will be first, the other second in their group. They are both possible adversaries in the last 16."
Real have qualified for the last 16 in second place in Group D behind winners Borussia Dortmund, who host Manchester City in their final group game.
Meanwhile, in a documentary that will be broadcast on ITV4 on Monday, 3 December at 22:00 GMT, Manchester United manager Sir Alex Ferguson says Mourinho has the qualities needed to succeed him at Old Trafford.
"I'm not going to put any forecasts on what is going to happen at this club. I won't last forever, but Jose can manage anywhere," said the Scot.
However, Mourinho does not expect Ferguson to leave United in the near future.
He said: "His succession isn't near. It should be in 10 years or so. He is getting better and better. He is stronger all the time. Why should he retire?"