Arsenal boss Arsene Wenger denies Steve Bould rant reports
Last updated on .From the section Football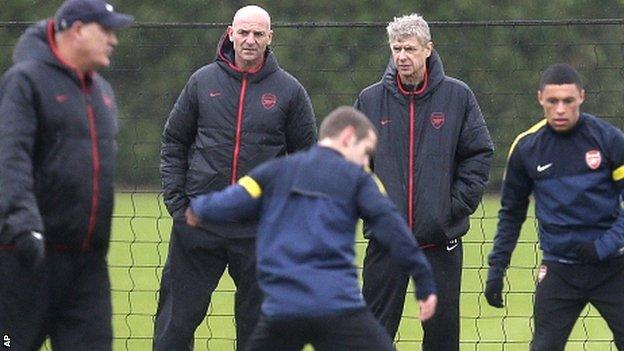 Arsenal boss Arsene Wenger has rejected claims assistant boss Steve Bould led a heated dressing room inquest following Saturday's by Swansea.
The Gunners have made their worst start to a season since 1994 and Bould was reported to have questioned the squad's commitment and responsibility.
But Wenger said: "That is not true at all. There's nothing more irritating than superficial information nowadays.
"It would be better that people are a bit responsible for what they write."
He added: "I take my responsibilities, but informing people in the wrong way is bad as well and it's time for some people to realise that."
The Swansea loss saw Arsenal drop to 10th in the Premier League table, 15 points behind leaders Manchester United.
Despite their home advantage, Wenger's side had only 44% possession and managed fewer attempts on goal than the visitors.
While Arsenal are through to the Champions League knockout stage for a 13th consecutive season, they have won just three of their last 12 games in all competitions and pressure is mounting on Wenger.
"There is a problem there, of course," said the Frenchman. "But what is important when you have a problem is to do something about it.
"The second thing is to have the strength to do something about it. We have the strength and we will do something about it.
"In England, the response is always to sort out your problems by buying players. It's one way to do it and if we need it we'll do it.
"But from 3 December to 1 January [when the transfer window opens] we have 28 days and many big games. So what is important is immediately to do something about it."
Wenger played down the significance of Arsenal's slump - they are five points behind fourth-placed Tottenham - and predicted his side would swiftly improve their fortunes.
"Let's not go overboard," he said. "We lost on Saturday and of course we not happy with that. But I'm confident that we have a strong team, that we have a strong spirit in the side and that will come out.
"We have rebuilt the team in two ways. Firstly, in bringing in new players. Secondly, in getting some players back from long-term injury.
"I feel there's a lot of strength in our team and patience and keeping mental strength will turn it round in an easy way.
"This club is in fantastic shape because we have a good team, we have a strong structure of the club that we have built over the years, we are in a strong financial situation and we are mentally strong.
"I can understand that not everybody is pleased about that, but that's a fact. And that's why we have to continue to behave how we do."