Pompey Supporters' Trust hopes for Balram Chainrai settlement
Last updated on .From the section Football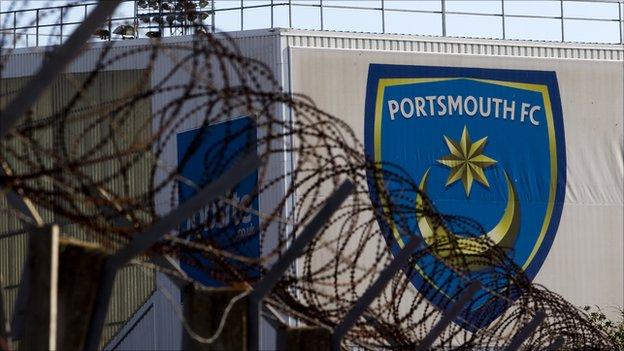 The Pompey Supporters' Trust (PST) says it hopes that next week's case with Balram Chainrai could be settled before it reaches the High Court of Justice.
The Trust has offered Chainrai £2.75m for Fratton Park, which he holds as security for his £12m fixed charge.
It has been unable to reach a deal with Chainrai's Portpin for the ground.
"We don't think it is in anyone's interests for this to go to court," spokesman for the PST Colin Farmery told BBC Radio Solent.
The administrators of Portsmouth - PKF - have agreed the conditional sale of the club to the PST, but only if it can take control of the stadium.
Portpin, which is led by former Pompey owner Balram Chainrai, believes it is owed around £17m by the club - £12m of which is secured.
It had been vying for control of the stricken club, but the PST was named the preferred bidder by PKF.
Last month, PKF announced they had agreed the conditional sale of Portsmouth - who have been in administration since February - to the PST but first it must take control of Fratton Park.
Next week's case could go either way, but Farmery says it could be risky for Portpin to let it go that far and hopes it can be settled away from the court.
However, it is understood that no discussions have so far taken place between the relevant legal teams to avert the court date,
"From Portpin's point of view, they are going to have to make a call how likely they think it is that they are going to win this case," he said.
"If they conclude the chances are that they are not going to win it then there may be a possibility of settling out of court.
"Certainly we will welcome that because at the end of the day the only people that are going to profit from that are the lawyers involved.
"We feel the money would be better spent on Portsmouth Football Club."