David Ginola defends Tottenham's Gareth Bale over diving claims
Last updated on .From the section Football779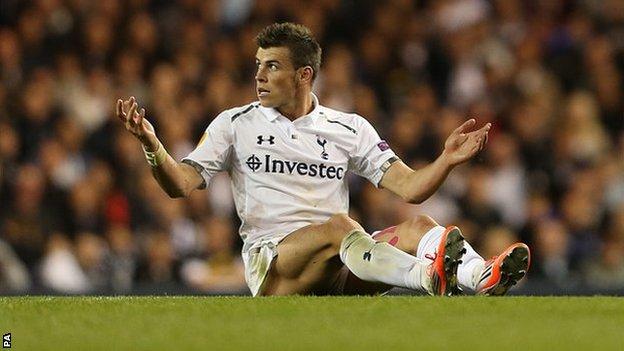 Former Tottenham midfielder David Ginola has described Gareth Bale as a "diamond" and says his growing reputation as a diver is "unfair".
"This debate really annoys me," Ginola told BBC Radio Wales.
"The kid is doing so well. He shouldn't carry this on his shoulder. I don't understand why we put pressure on him with false ideas. It's unfair."
The yellow card was Bale's seventh of the season but Tottenham boss Andre Villas-Boas felt the decision "was a little bit harsh", with replays suggesting there was contact between Bale and Fulham's Steve Sidwell.
Villas-Boas also said Bale, 23, was only trying to protect himself after suffering "big, big injuries to his ankles".
Ginola believes officials should protect players of Bale's ability rather than punish them and said it was hard for a player to shake off a reputation for diving once he had been singled out for criticism.
He also said Bale's pace was sometimes the reason he went to ground.
"You don't need a big tackle to go down," said Ginola. "A little push would be enough to lose the balance.
"Football is about entertainment. When you have players like that who entertain you week in, week out, you have to protect that. It's so precious.
"You have to take care of them because they are little diamonds in a league like the English Premier League.
"I thought he was a diamond when I saw him play against Inter Milan and score three goals [in 2010]. He is special."
Ginola, who played more than 100 games for Spurs in three years at White Hart Lane from 1997-2000 and also played for Newcastle United, Aston Villa and Everton, believes Bale has the potential to be even better than another Wales star, Ryan Giggs.
"To be put alongside Ryan Giggs is a huge compliment for Gareth Bale, but one day Ryan Giggs will be very happy to be named alongside Gareth Bale," said Ginola.
"He is the complete player and still very young. He has got everything. He is going to be a huge asset for the world of football in the next few years."
Ginola also wants Bale to stay in a Spurs side that he thinks can get better and eventually do well in the Champions League.
"When you have a diamond, you don't sell diamonds," said the 45-year-old Frenchman. "You try to keep them."