Scotland: SFA president Campbell Ogilvie open to foreign manager
Last updated on .From the section Football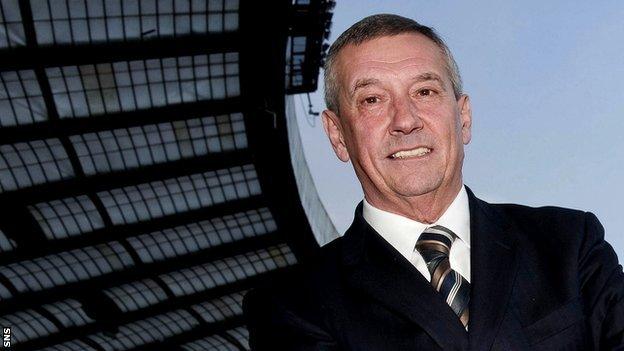 Scottish FA president Campbell Ogilvie has said the next manager of the national does not need to be a Scot.
And, despite the only other foreign appointment being the much-maligned Berti Vogts, Ogilvie would be happy for another non-Scot to take the helm.
We want to bring in the best possible manager. From wherever, we want the best person for the job," he said.
However, Ogilvie was less forthcoming about the search for a new manager.
"The process is well under way and obviously it's our aim to have a new manager in place in plenty of time before the next competitive game in March against Wales," he said.
"We have got some individuals who we believe could fill the post. I'm not going to get drawn on any details."
Ogilvie also revealed he almost resigned from his post earlier in the year amid criticism over his association with Rangers' financial issues.
The former Ibrox director admitted being the beneficiary of one of the club's controversial Employee Benefit Trusts, which a tax tribunal subsequently found to be legal.
However, he decided that to publicly remove himself from any decision-making on Rangers was sufficient.
"Yes, I had thought about it but I obviously volunteered to stand aside in relation to the Rangers topic," he revealed. "I had to do that.
"I was compromised in the context I had worked with Rangers previously and, like any committee that operates within the SFA, if you have been with a club and there are issues coming up that are relative to that club, you have to stand out the room.
"Effectively on that one subject I stood out the room in the region of six months.