Hearts agree tax and NI payment plan with HMRC
Last updated on .From the section Football55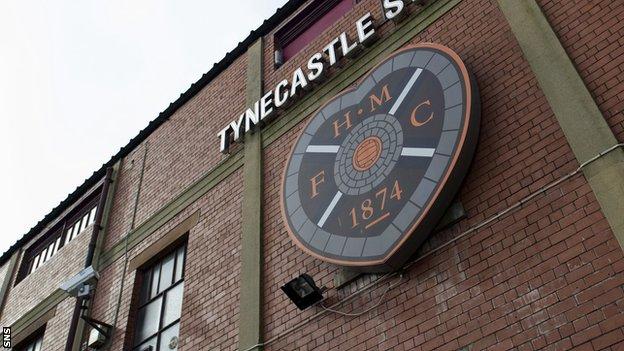 Hearts have reached an agreement with Her Majesty's Revenue and Customs in a dispute over tax and National Insurance contributions.
The £1.75m dispute was first revealed in Hearts' share issue brochure last month as the Edinburgh club launched a scheme to raise £1.79m.
Now Hearts have agreed to pay £1.5m over a three-year period.
The deal is separate to Monday's settlement of a £450,000 tax bill which ended the threat of a winding-up order.
That was paid in two instalments after HMRC agreed that Hearts could pay the overdue amount in two stages.
The £1.75m dispute related to players loaned to the Scottish Premier League club since 2005 from Lithuanian outfit Kaunas, which is controlled by Hearts' majority shareholder Vladimir Romanov.
The players from Kaunas had paid tax to the Lithuanian authorities and not to HMRC, despite working in the UK.
The Tynecastle club's share issue brochure revealed HMRC "claimed unpaid tax liabilities of circa £1.75m (excluding interest and penalties) in relation to the arrangements between the company (Hearts) and Kaunas FC in relation to certain players who were loaned to the company by Kaunas FC".
Hearts announced on Tuesday that no penalties are payable under the terms of the agreement and that the tax tribunal private hearing held last month has been concluded without any evidence being heard.
In a statement on the club's website, Hearts director Sergejus Fedotovas said: "We are satisfied that this resolution provides the club with an opportunity to now move forward with certainty.
"We believe that the payment terms agreed with HMRC allow the club to manage repayments in a way that will not be detrimental to longer-term development of the club."
Hearts have so far raised more than £600,000 in their share issue scheme.
The scheme's target is to raise almost £2m as the club battles to pay tax bills, meet running costs and develop its youth development programme.
The addition of a £500,000 bill for the next three years will clearly present the club with further financial challenges.