Lionel Messi: Goals record caps golden year for Barcelona star
Last updated on .From the section Football180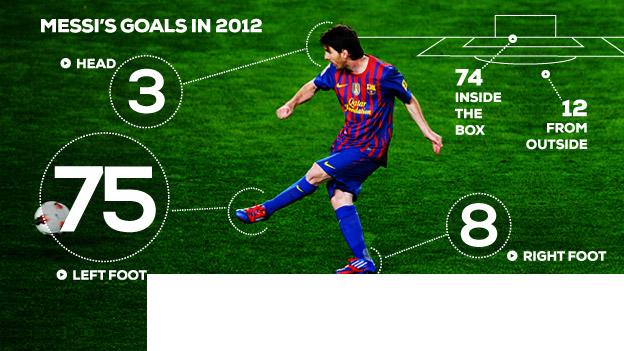 The statistics are staggering, the milestones apparently endless and the performances continue to defy belief.
At 25, Lionel Messi is reaching the peak of his powers. It is difficult to see how he can improve having found a rate of scoring few thought possible and married it to an incredible level of consistency.
The debate about whether he is the greatest of them all can wait, but the phenomenal speed with which he is breaking records cannot be ignored.
Messi has set new records at such a rate during his career as to render them almost meaningless. This one, however, is significant.
Against Real Betis on Sunday, Messi broke Gerd Mueller's phenomenal 40-year-old mark of 85 goals for club and country in a calendar year. He equalled the record by surging at the Betis defence before sending in an angled shot, while a low drive in the 25th-minute of the first half put Messi on his own pedestal of 86 goals.
It was a record many thought would stand forever - untouchable until the boy from Rosario arrived on the scene.
Udo Lattek, who managed Mueller at Bayern Munich in 1972, the season the German set the record, said: "Gerd [Mueller] was my best player but he was different from Messi. Leo is a better player. He is the best there is, a marvel of football, like a god.
"Without Messi, Barcelona is Barcelona. But with him, they are the best in the world."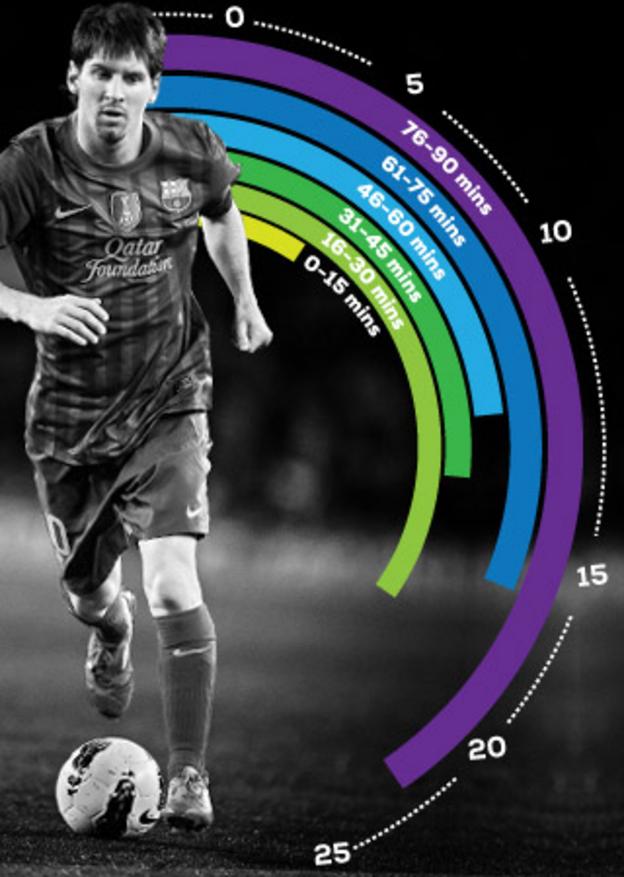 Mueller was a fearsome competitor. With a powerful build and a low centre of gravity, "Der Bomber" had the strength to resist most defenders and coupled that with an incredible habit of finding the net however unlikely the situation.
His ruthlessness in front of goal set him apart, both for club and country, and he ended his Bayern career with 365 goals in 427 league appearances. For Germany, he found the net 68 times in 62 matches.
Where Mueller was a poacher and a finisher, Messi is much more. His bewildering repertoire of faints and swerves, sudden stops and bursts of pace are allied to tremendous physical strength for such a slight figure.
His goal-scoring in 2012 has been staggering, even by his standards.
In the first five months of the year he became only the third player to win the Ballon d'Or three times, the joint top scorer (with 14 goals) in a single European Cup season, the first player to score five goals in a single game in the Champions League era, the youngest player to reach 150 La Liga goals, and Barcelona's all-time top scorer.
He also broke the record for the most competitive goals (68) scored in a single European season, also previously held by Mueller. He has won 19 trophies, more than any other at his age.
He is on course to become the Champions League's top scorer for a fifth consecutive season and has already scored 21 goals in La Liga this season, eight more than the second-placed Cristiano Ronaldo.
On his way to beating Mueller's record, Messi has scored six hat-tricks, twice scored four goals and on one occasion scored five. There have been highs and more highs, with his best run of form seeing him score 24 goals in 13 matches. His longest goal "drought" lasted all of three matches.
Incredibly, he has scored 48% of Barcelona's goals in 2012, the club winning 91% of their matches when he has scored and just 47% when he has not.
What is more the statistics show that in 2012, Messi actually gets better as the game wears on and is more likely to score in the final 14 minutes than at any other time in the match. As defenders' legs grow weary, the Argentine comes into his own.
So, another landmark moment for Messi - and not the slightest sense that he is jaded, or crowds weary of his predominance. Spirits are still lifted by the sight of him in action, a man totally in command of his talent playing with the joyful exuberance of a boy in the schoolyard.
He has already carved a place in the imagination of the football world, but he insists he still has some way to travel.
Now we must simply celebrate being invited along for the ride.