Newry City poised to make comeback after being wound-up
Last updated on .From the section Football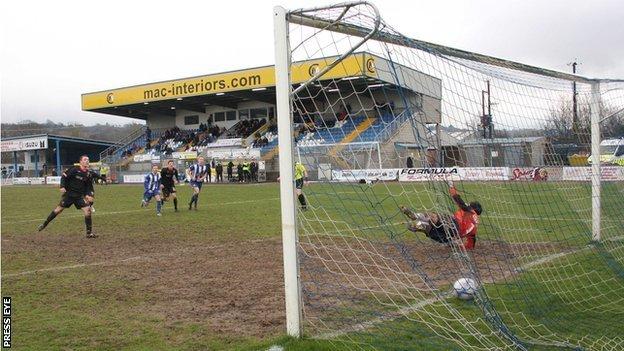 Newry City are set to come back into existence just three months after the club was wound up and had its Irish FA membership terminated.
It is reforming as Newry City 2012 and negotiations are continuing with the IFA in a bid to regain league status.
The new club will not inherit any of the old debt from the now defunct Newry City FC Ltd.
The club may be allowed to apply for membership to the Mid-Ulster Intermediate B league next season.
It will continue to use the Showgrounds as its home venue as the ground is owned by the club's season ticket holders.
Club officials, who are drafting a new constitution, have also negotiated a significant rates reduction which will help reduce monthly running costs once the club is up and running.
A public meeting will be held at the Showgrounds on 18 December and the working title of Newry City 2012 may change after this.
Newry's IFA membership was terminated in September after the club's registered directors told the governing body that they did not intend to appeal against a High Court winding-up order.