Barrow boss Dave Bayliss: Togetherness is key amid criticism
Last updated on .From the section Football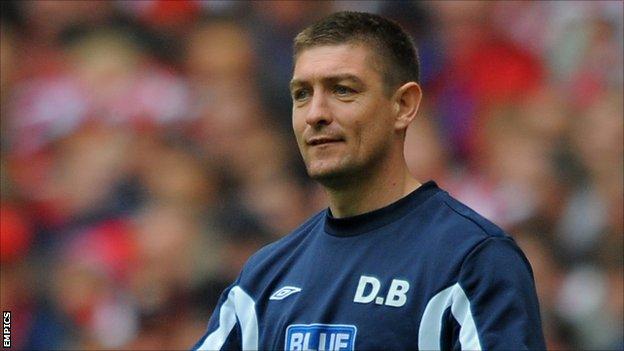 Barrow manager Dave Bayliss has said criticism from sections of the support on local radio will not detract from the team spirit at Holker Street.
The Bluebirds are three points adrift of safety in the Blue Square Bet Premier table, after
"We have to stick together which we do," Bayliss told BBC Radio Cumbria.
"I'm not letting a few idiots hiding behind computers or mobile phones poison what we've got."
Bayliss, and former joint-boss Darren Sheridan, brought Barrow into the Blue Square Bet Premier in 2008, and have assured safety in each of the last four seasons.
In addition, an FA Trophy success at Wembley in 2010 and consecutive FA Cup third round fixtures at Premier League clubs have raised expectations.
However despite the fact the majority of Barrow players are full-time, off-the-field financial constraints remain difficult to manage in what is a predominantly professional division.
"We lost two big players in [Jack] Macreth and [Andy] Cook in the summer, and those two alone would make a massive difference," Bayliss continued.
"It's hard to criticise players because they're very young, but come January we'll have a bit more money to play with and I know what I need and I will make sure we get it.
"They're learning their trade. Some of the players at the moment we don't even play a wage for, so that is the difficulty we've got.
"We're Barrow, not Barcelona. We haven't got the resource of a Mansfield or other top sides in the league but we've worked so hard over five years to make sure we don't go down and we won't go down."