Phil Smith ready to answer Portsmouth call
By Nabil Hassan
BBC South Sport
Last updated on .From the section Football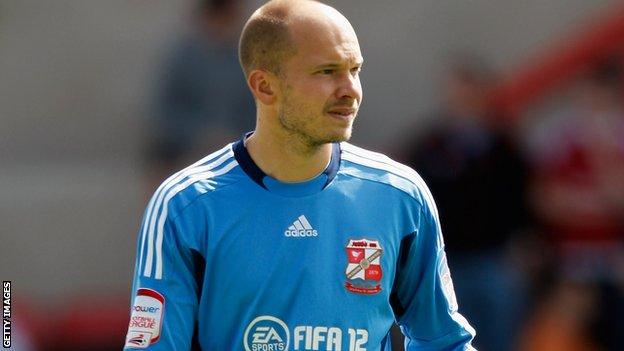 Former Swindon keeper Phil Smith says he is ready to come to Portsmouth's rescue should they need him.
Portsmouth have just one senior keeper at the club and Smith has been training with the League One side this week.
"The support there is second to none so to have the chance to be involved in something like that is almost too good to be true," he told BBC South Sport.
Pompey have just keeper Simon Eastwood at the club after on-loan Alan Cisak returned to parent club Oldham last week.
With the loan window shut Pompey can now only sign an out-of-contract keeper and the South Coast side have been assessing Smith over the past week.
"They've been kind enough to have me in," added Smith.
"It's horrible not being involved. When you are a footballer and there is nowhere to train, it's horrible.
"I'd given up hope really of finding somewhere and then I got a phone call from John Keeley (goalkeeper coach at Pompey).
"Training again just felt like I've got oxygen in my lungs. It's nice to be involved in something, even if it's just training."
The former Margate and Crawley keeper reveals he has spent much of his time away from football on house-husband duties and consigned himself to finding work away from the game.
"I've been doing a lot of ironing, hoovering and that's about it. I've been looking for a lot of jobs outside of football," he said.
"Nothing has come up so I'm looking after the kids while my wife is at work and am looking for something to go into after football."
He says he would jump at the chance to sign for Pompey and feels he has got something to offer - even if it is not immediately.
"Obviously I don't know the ins and outs at Portsmouth but I know the club is in a bit of trouble," he added.
"It is such a massive club and it is known throughout football for its support.
"But nothing has been said in terms of signing. It is just training, but just to have the opportunity to train I'm pleased as punch.
"I'm training again on Thursday and that's as far as I know, it's a day-by-day thing. I'm just going to keep going in and keep going back when I'm invited and see if anything comes of it.
"Fitness is the sort of thing they are looking at. I haven't played since the end of last season and I feel pretty good in myself and feel like I've got something to offer."