The venue for the Nations Cup opener and final to get new pitch
By Mohammed Allie
BBC Sport, Cape Town
Last updated on .From the section Football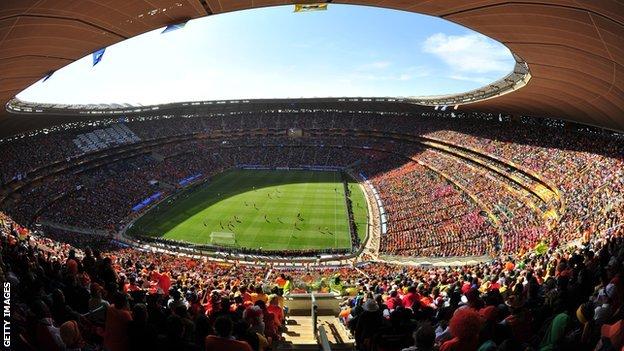 The FNB Stadium in Johannesburg is set to get a brand new pitch ahead of hosting the opening games and final of the African Cup of Nations.
There is concern over what condition the playing surface will be in for the Nations Cup final on 10 February 2013, as the stadium is set to host a concert just eight days before the match.
American rock group the Red Hot Chilli Peppers are scheduled to play in front of a full house at the 94,700-seat stadium, in an event which is in real danger of damaging the grass.
In an effort to minimise any damage to the playing surface, a new semi-artificial pitch is due to be installed in mid-December.
The organisers are hoping that a hybrid of natural grass and artificial fibres, known by its brand name of Desso Grassmaster, can save the day.
They are also hoping the new surface can increase the frequency of its use and minimise the turnaround time between events.
The hybrid surface is already widely used around the world including at Wembley Stadium in England as well as at several Premier League clubs such as Arsenal, Liverpool and Manchester City.
Mvuzo Mbebe, chief executive of the 2013 Nations Cup Local Organising Committee, said he is confident that the pitch will be in good condition for the final.
"We are going to put in Desso GrassMaster and so the pitch will not be affected," he insisted.
The state of the FNB Stadium pitch was criticised after replacement grass had to be hastily planted in some areas ahead of the Nelson Mandela Challenge match between South Africa and Zambia last month.
The stadium's turf was badly cut up by the stage used for a concert held just a few days before the match on 14 November.
"The LOC will be writing a letter to Caf on behalf of stadium management requesting that they accommodate the concert, which was booked to take place in February next year," Mbebe said.
Jacques Grobbelaar, chairman and chief executive of the company that manages the stadium, insists they have to host at least one major event per month, including concerts, to help cover the costs needed to run the venue.
"Football and concerts will have to co-exist in the unique stadium utilisation model we employ," he said.
"Delivering world-class events to every football fan and concert-goer is of utmost importance to us, as is running a sustainable and profitable venue that does not cost the taxpayer any money."
The company in charge of the stadium also pointed out that they signed an agreement back in August 2011 with the Red Hot Chilli Peppers for concert and only started discussions about hosting Nations Cup matches in July 2012.