Ebbsfleet United future concerns manager Liam Daish
Last updated on .From the section Football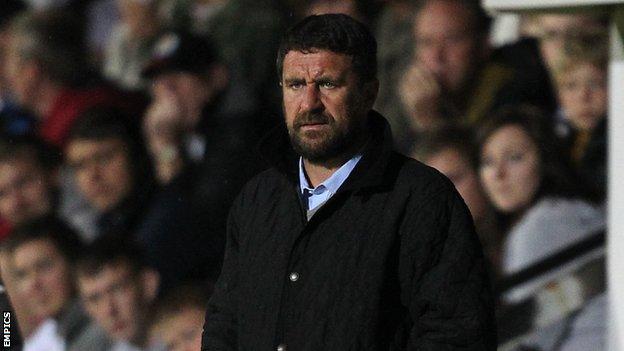 Ebbsfleet manager Liam Daish says concerns over the club's future have created "an edge" at Stonebridge Road.
Daish told BBC Radio Kent: "Things are a little bit up in the air and people are pulling in different ways, which I can't do anything about.
"You can't get away from it. It's not nice at the moment. There is an edge."
MyFootballClub took over a majority shareholding of the Fleet in 2008 after attracting 20,000 fee-paying members.
However there are concerns that membership numbers have fallen, with McQueen telling BBC Radio 5 live's Non League Show: "The owners would admit that they have lost members and don't have money to put into the club going forward."
Meanwhile the Fleet Trust, the club's supporters' trust, recently issued a statement saying they were "concerned about the viability and sustainability of the football club under its present ownership".
Last week MyFootballClub responded at the Fleet Trust's annual general meeting, saying their objective was to continue to "sustain and develop the club to the best of our ability".
They said they were proud of their financial investments and achievements since taking over Ebbsfleet, but would consider any serious and sensible long-term offers for the club.
"Any serious offers that include a long term sustainable plan for Ebbsfleet Utd would be considered by members," the MyFootballClub board said.
"As always MyFootballClub is happy to work with the club, the locals fans and the Fleet Trust for the best interests of the club.
"Should the Fleet Trust have a detailed business plan of a way forward for the development of the of the club then we would welcome the opportunity to put it to members."
Daish admits the current off-field issues are somewhat distracting.
"Like anything, players and managers want to be motivated and fans want to be excited about the future," he added.
"At the moment there is a lot going on behind the scenes that is not nice.
"There's a lot of arguments and people pulling in different directions, which is their prerogative.
"It can't be helpful."
Fleet currently lie one point from safety in the Blue Square Bet Premier relegation zone and Daish says he is doing his best to keep the playing squad focused on matters on the pitch.
"I just try and talk about the football side of it and not mention it to the players," he said.
"I'm sure they are aware, whether they want to hear it from me or not. I don't think they do.
"If anyone wants to talk to me about it I will give my view but I am just trying to keep the dressing room focused, committed and working hard."