David Beckham approached by two MLS clubs over ownership role
Last updated on .From the section Football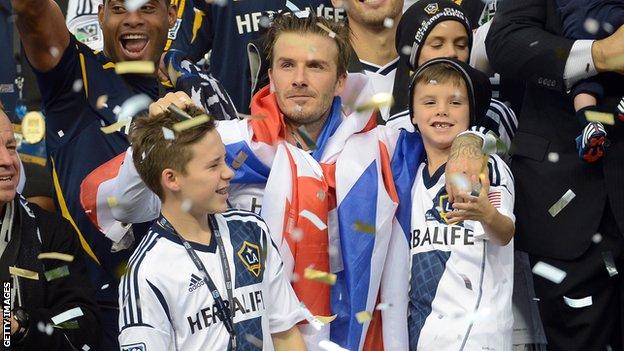 David Beckham is weighing up two offers that could see him become the owner of an emerging Major League Soccer club.
Franchises in Miami and New York have approached the 37-year-old, who asked for the option to own an MLS club when he joined Los Angeles Galaxy in 2007.
Both clubs are hopeful they will become MLS members before 2016, and both are keen for Beckham to play a major role.
But the former England captain intends to play on for at least one more season with a number of clubs in the running.
Beckham played his final game in the MLS on Saturday, leading Galaxy to a second successive Cup final victory.
Paris St Germain and AS Monaco are understood to be among the clubs battling for his services, with Beckham keen for one final challenge before ending his illustrious playing career.
The prospect of an ownership role is something Beckham has been keen to explore since moving to the US and while taking up a stake in the Galaxy remains an option, it is two other offers that are understood to be more attractive to Beckham.
A number of investment groups in the Middle East have expressed an interest in backing Beckham's potential ownership of an MLS franchise, as the likes of Qatar and Abu Dhabi explore the possibility of extending their global reach in football to the United States.
All parties can see the prospect of harnessing the marketing phenomenon that is Beckham, in one of the most lucrative and high-profile developing markets in world football, as an opportunity not to be missed.
MLS sees Florida is a key untapped market, with no team in the south-east of America and a large following already in place. Given the area's high Latin population, Miami is viewed as an ideal city in which to expand the MLS. The city had a MLS outfit, the Miami Fusion, but the club was removed from the league in 2001.
Another option is New York, with MLS commissioner Don Garber wanting a rival in the city to the Red Bulls.