Could Jose Mourinho and Pep Guardiola be after the same jobs?
By Andy Brassell
European football expert
Last updated on .From the section Football117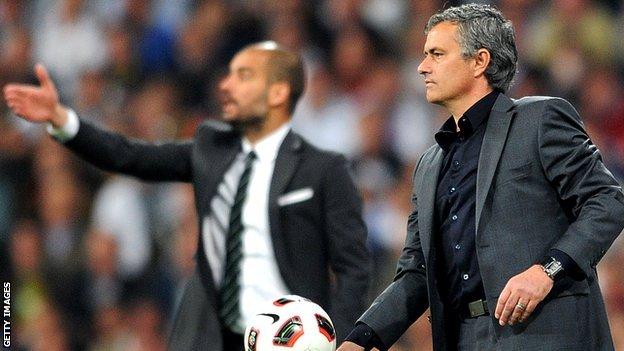 Pep Guardiola's departure from Barcelona at the end of last season wasn't just the end of his involvement in a glorious era for the club. It also called time on one of the most fascinating managerial rivalries in Spanish - and world - football, between Guardiola and Real Madrid's Jose Mourinho.
It appears increasingly likely that Mourinho will also be a former La Liga boss by next summer. Monday's edition of Madrid-based newspaper Marca claimed the coach and his president Florentino Perez have mutually agreed that he will leave at the end of June 2013, with just the terms of the settlement to be decided.
Speculation on Mourinho's future in the Spanish capital stretches back for almost two years, but there is weight to this. Marca is strongly pro-Real Madrid and pro-Perez, and often acts as an unofficial conduit for the president's thoughts.
The current situation is, frankly, a pain for Perez. His relationship with Mourinho has always been cordial rather than affectionate, but he brought the Portuguese to the Bernabeu for one reason - to win the Champions League.
The problem is that Real's patchy domestic form has left them in third place in La Liga, 11 points behind Barcelona. This is despite Saturday's convincing derby win over second-placed Atletico.
Real finished second behind Borussia Dortmund in Champions League Group D and there is now a two-month hiatus before the knockout stages begin. Perez needs the club to remain competitive at home in the meantime if Mourinho is to remain to work his magic in Europe.
But whether or not Real end up winning May's final at Wembley, the timing could be right for Mourinho to move on. He will have completed three years in Madrid, which has tended to be his maximum at one club.
It is longer than most expected him to last. He has survived despite frequent rows with the media and persistent rumours of a schism between Spanish and foreign players in the camp.
Were he to leave, there are very few clubs in world football who could realistically hope to attract a coach of such renown. How his future will unfold is, however, complicated by his old sparring partner Guardiola.
Two aspects of Guardiola's status potentially muddle things in terms of Mourinho's immediate future. Firstly, the ex-Barcelona coach is a free agent, so there is no need to negotiate exit terms, as Mourinho would have to should he leave Madrid.
Secondly, the competition for Guardiola's signature is so fierce that it is hard to imagine any enamoured club waiting until the completion of his current sabbatical year with his family in New York to make a move. They may even fire a coach earlier than anticipated to create a vacancy.
One club where this could well happen is Paris Saint-Germain. Since his arrival in France last December, former Chelsea and AC Milan boss Carlo Ancelotti has failed to either capture silverware or produce any real quality, despite an outlay of around £120m on transfer fees alone.
Following Tuesday's Champions League win over Porto, which saw Ancelotti's side top their group, PSG president Nasser Al-Khelaifi backed his man in the most non-committal way possible. "Today, Carlo is here," he told reporters on his way out of the Parc des Princes.
With his team on a run of three defeats in their last five league games, Al-Khelaifi's reticence is unsurprising. Monday's L'Equipe carried the headline "Qatar wants a big clean-up", claiming the club's Middle East owners are already planning a future without the Italian.
Further down, the newspaper said PSG representatives had already entered into discussions with Guardiola's entourage. It's hard to imagine star striker Zlatan Ibrahimovic would be too pleased after his disparaging comments about Guardiola in his autobiography last year.
PSG's Swedish star would be rather more cheered by the arrival of Mourinho, whom he named as his favourite coach, along with Fabio Capello, in his book. Mourinho already knows Al-Khelaifi on a personal level, having worked as a pundit for his Al-Jazeera Sport channel at Euro 2012.
Mourinho has won national titles in four countries already. The possibility of doing so in a fifth is something that could appeal to his well-developed sense of history.
But it is not only the PSG job that both Mourinho and Guardiola are being linked with. Manchester City's Roberto Mancini was recently forced to respond to reports that the Real boss's agent, Jorge Mendes, had met with Manchester City's sporting director Txiki Begiristain.
It is unlikely to be the last time Mancini has to do so. The fact Mourinho turned Mancini's domestic success and European failure at Inter Milan into a Champions League win has escaped nobody's notice.
Still, the suspicion is that Begiristain might have his sights trained elsewhere. It was he who chose Guardiola ahead of Mourinho for the Barcelona post back in 2008.
Wednesday's edition of Catalan Daily Sport again invoked the link between the pair. Sport claimed Begiristain "will clean up City to prepare for the arrival of Guardiola", suggesting he will slash the wage bill and reduce the size of the squad. This would leave Guardiola closer to the tight group dynamic he favoured at the Camp Nou.
Meanwhile, the difficulties being experienced by Rafael Benitez at Chelsea mean the prospect of Mourinho returning to Stamford Bridge is not off the table.
The possibility that when Mourinho and Guardiola eventually resume hostilities it will be in the Premier League is certainly an intriguing one.