Rafael Benitez targets Europa League to silence Chelsea critics

By Phil McNulty
Chief football writer
Last updated on .From the section Football237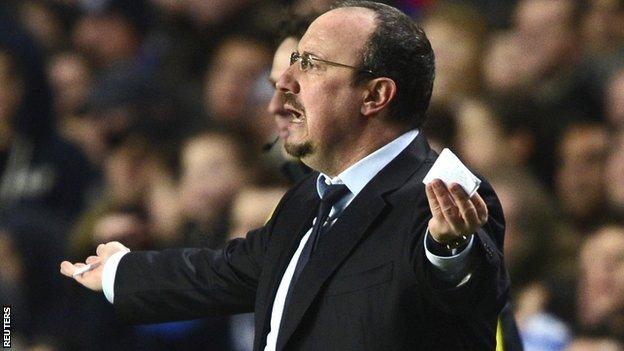 Rafael Benitez was a loser even in the most emphatic victory.
Benitez, it seems, can be blamed for many things by supporters who show no appetite for his appointment - but no-one can lay a finger on him for Chelsea's Champions League exit.
As Chelsea claimed the dubious honour of becoming the first holders to fail to reach the knockout phase, even Benitez's many critics at his new club could not claim any of the damage was his doing.
The Europa League awaits and Benitez was swift to announce this would be taken seriously.
Two-legged European combat is his area of expertise and his track record suggests Chelsea might have made a decent fist of the latter stages of the Champions League had they somehow survived on Tuesday.
Benitez was right to make this statement of intent. The Premier League is starting to resemble a two-horse race between Manchester United and Manchester City so the Europa League may even be as good as it gets for owner Roman Abramovich this season, whether he likes it or not.
Chelsea's 6-1 win against Nordsjaelland was rendered an irrelevance by Juventus's 1-0 win against Shakhtar Donetsk in the Donbass Arena.
Benitez went through all manner of brave faces and various positive managerial default positions but there was no escape - this was a catastrophe for a club that had enjoyed the greatest night in its history seven months ago.
If you want a measure of the scale of Chelsea's recent decline then it is easily done. They head off to the World Club Cup in Japan next week with the attempt to defend their crown as champions of Europe already over after only six games.
Chelsea's demise can be traced back to the concession of a two-goal lead to Juve in the opening group game at Stamford Bridge in September.
It hinted at frailties in the new open style that replaced the obduracy that was the foundation for winning last season's Champions League.
It was further exploited in defeat in Donetsk and more sinister forces were at work by the time the defining group game against Juventus in Turin came around last month.
The momentum Roberto Di Matteo created had been lost, injuries and absentees were badly missed and confidence in the manager had disappeared to such an extent that he was sacked hours after the 3-0 defeat.
Chelsea's strength of last season was replaced by a more expansive and bold approach that was their weakness this season.
This was not helped by a loss of confidence among the team and a loss of faith from the club's owner in the manager he appointed in the warm afterglow of their Champions League win.
It was a rapid downhill slide and Benitez could only rely on winning Wednesday's game - which he did - then hoping for a favour from Shakhtar that never came.
Chelsea have suffered an undignified drop towards the Champions League exit that accurately reflected the turbulence that has typified the club recently.
Benitez will regret he arrived too late to engineer a route into the next phase of the competition. He has demonstrated in the past that once he arrives in the last 16 he can be a feared strategist in this form of competition.
A winner of the Uefa Cup at Valencia, a winner and loser of Champions League finals at Liverpool, as well as a semi-finalist and quarter-finalist (both lost to Chelsea) he will still see the Europa League as an opportunity to further rebuild his reputation and restate his credentials.
Benitez has past away wins against Real Madrid, Barcelona and Inter Milan on his European CV and he will be intent on using the Europa League campaign as a means of proving his worth to Abramovich and the Chelsea fans who once again gave him the coolest of receptions on Wednesday.
It is already clear Benitez will never win over a large section of Chelsea's support, with more vocal backing for the dismissed Di Matteo and banners at The Shed End ordering Abramovich to manoeuvre the return of "The Special One" Jose Mourinho to Stamford Bridge.
But Benitez knows the Europa League will be important to his future, whether that is at Chelsea or elsewhere, so it would be a major surprise if he did not deliver on his promise of going all-out to win the tournament. He is at home in this environment.
Benitez will also have captain John Terry back at his disposal, although whether he utilises Frank Lampard remains to be seen.
Terry sounded up and ready for the fight in his programme notes on Wednesday, writing: "Let's show some fight and desire for our club and for the shirt. Players will come and go but what must always remain is the spirit within this club: never give up and fight for every last thing."
It is the sort of approach Benitez will need and appreciate as he attempts - with little or no affection or obvious backing from Chelsea's followers - to lift what is currently a desolate mood around Stamford Bridge.
This would have been a tough assignment for a manager swept into a club on a tide of goodwill. It will prove even harder for a manager who has not, to put it very mildly, been made to feel welcome.
Chelsea, quite understandably, have revelled in their status with the cry "We Know What We Are - Champions Of Europe" a familiar refrain around Stamford Bridge this season.
Now Benitez must hope he can rekindle his old European magic on the lesser stage of the Europa League.