Doug Smith - club legend and gentleman

By Jim Spence
BBC Scotland Sport
Last updated on .From the section Football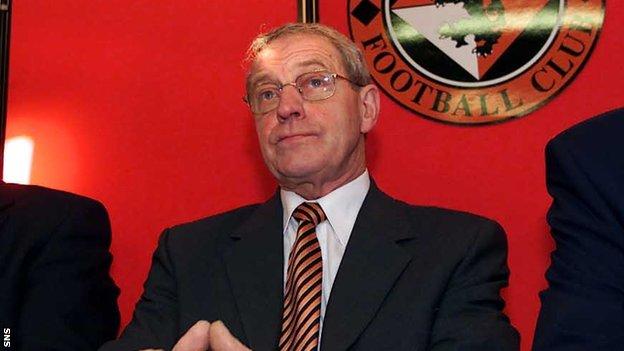 Doug Smith was a one-club man and his record for Dundee United in a modern age seems almost impossible to comprehend.
He also pulled a mean pint and played a good game of dominoes, more of which later.
Seventeen years of service as a player and captain at Tannadice and never once booked or sent off in a career spanning 628 games.
That was followed by service to the club as director, vice-chairman and chairman in an association at Tannadice lasting more than 40 years.
In his era, he was often described as one of the finest uncapped players in Scotland.
He made his breakthrough as a regular in the United side when his fellow Aberdonian, Ron Yeats, left Tannadice to join Liverpool in July 1961. Doug then cemented the position as his own.
Although he never won a major honour at the club, he was part of some great occasions in United history.
He was part of the United team that humbled Barcelona both home and away and, in the late 1960s, was appointed club captain.
In May 1974, he led United out at Hampden Park for the club's first-ever Scottish Cup final with a certain Walter Smith and a young prodigy called Andy Gray in the team.
In the event, United lost 3-0 to a fine Celtic side featuring such luminaries as Jimmy Johnstone, Kenny Dalglish and Billy McNeill.
In Smith's first few seasons at United, they were very much in the shadow of near neighbours Dundee, who were top dogs in the city and soon to win the old First Division title, as well as reaching the semi-final of the European Cup.
United, though, were shortly to emerge from that shadow and Smith was a key feature at the start of the Jim McLean era, which saw the first shift in the balance of power in the city towards Tannadice.
Football obviously ran in the family, because Doug's brother, Dave, was also a fine player as a midfielder with Aberdeen and Rangers.
There was quiet dignity about Doug Smith, both on and off the field. For many years, along with my late father, we drank in his shop, as they say in Dundee.
That shop being the Athletic Bar, within short walking distance of the two city grounds and a great football meeting and drinking place.
In all the years that he was mein host in the Athletic, I never heard him utter a swear word or lose his rag, something testified to by my brother, who latterly played in the same domino team as Doug, who was a very decent "Bones" player.
He was a gentleman and carried himself as you would hope a former club captain might: with dignity and bearing.
Not too long ago, the city of Dundee lost another great footballing legend in Bobby Cox, another great one-club man, who skippered the great Dundee side of the early sixties.
Smith and Bobby Cox were hewn from the same wood, when footballers were very much part of their community.
In a city like Dundee, where there is a strong rivalry but also a great affection for those of the other side who truly merit respect and admiration, Smith's passing will be mourned, like that of Bobby Cox, among true football fans on both sides of the city divide.