Celtic: Neil Lennon masterminds Champions League progress

By Alasdair Lamont
BBC Scotland
Last updated on .From the section Football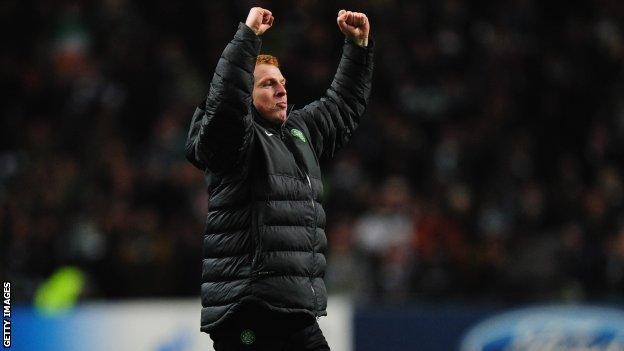 After all of the superlatives bestowed upon Celtic and Neil Lennon following their Champions League win over Barcelona, what is left to add now that they have joined the Spanish giants in the last 16 of the competition?
A third win, having also beaten Spartak in Russia, added to the home draw with Benfica meant Lennon's side amassed 10 points, more than any Scottish side had previously managed in Europe's elite tournament - that despite being fourth seeds in the group.
Celtic's achievement is truly remarkable, all the more so set against a backdrop of dwindling standards in Scottish football.
While that malaise has affected Celtic domestically, they have produced a completely different level of performance on the European stage.
Neil Lennon will seek to address the issue of how to ensure his players lift themselves for the domestic challenge, but for now he should be allowed to bask in the glory of taking his club to a place his mentor Martin O'Neill could not.
Lennon spoke in glowing terms on Wednesday night about the role played by former Celtic bosses O'Neill and Gordon Strachan - who twice led the club into the last 16 - in shaping him as a man, a player and a manager.
He feels he has some way to go to emulate that pair, but the distance is shorter than he will admit.
Some Celtic supporters had wanted him out of the dugout following the 2010 Scottish Cup semi-final defeat by Ross County.
Even in recent weeks there have been dissenting voices among fans unhappy with the team's inability to run away with a league that many believed was in the bag before a ball was kicked.
The likelihood is that the league will be won, and by a sizeable margin, but the bigger picture is that Celtic are making an impact where no other Scottish club can currently dream of and that in itself should see Lennon held in similar esteem to O'Neill.
The current Celtic manager has nowhere near the kind of funds that were available to O'Neill and yet he has already surpassed his Champions League achievements.
Not that you will hear the increasingly diplomatic and level-headed Lennon blowing his own trumpet.
But he doesn't have to. The results are doing that for him.
He says he hopes to tie Gary Hooper and Victor Wanyama to new deals before considering whether the money Champions League success brings might allow him to strengthen his squad in January.
The prospect of that last-16 tie, he said, might convince anyone who might have been tempted into a move to stay.
There's little chance he would be enticed elsewhere right now either, but he will be turning heads in boardrooms across Europe.
And who's to say he and Celtic can't go one step further - to the Champions League quarter-finals, where no Scottish club has been?
Cliched as it might sound, few of the group winners would relish a trip to Celtic Park for the first leg in February.
So roll on 20 December and that knock-out stage draw.