Gillingham boss Martin Allen targets 'crucial' loan deals
Last updated on .From the section Football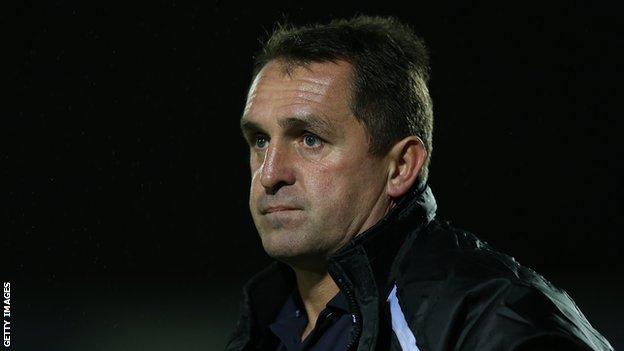 Gillingham boss Martin Allen says he will be targeting January loan deals as he looks to bolster his side's bid for a League Two promotion place.
The Gills top the table but have only won one in their last five league games, and Allen believes he needs reinforcements.
"Loan signings are crucial at this level," Allen told BBC Radio Kent.
"In January obviously we'll be looking to revisit the market and see who we can bring in."
The former Barnet boss, who joined the Gills in July, continued: "We try to have good relationships with the clubs that are happy to send their players to us.
"We try to get the ball down and play. It's a good place for managers to send their young players to develop. Some of the players who aren't getting into Championship can come here."
The Gills travel to Rotherham on Saturday looking to extend their two-point lead at the top of the League Two table, but Allen said he was not focused on their league position.
"We don't look at that league table too much to be honest, we just keep practicing. It's April when it matters," he said. "Over the next few months we all know how important these games are, with the amount of points you can pick up over Christmas."
The 47-year-old also downplayed the effect of away games on his side, saying he was looking forward to the trip to the New York Stadium - although he admitted to not being exactly sure where it was.
"We'll train somewhere up in - it's in Yorkshire isn't it? - we'll train up there, and get the lads out ready for a great game to play in.
"And it's great on the buses, they get to play their computer games, listen to their music, watch the odd DVD, get a newspaper, put their feet up - and they have a nice bit of food," he said. "It's not like the old days."