Champions League teams in Europa League unfair - Villas-Boas
Last updated on .From the section Football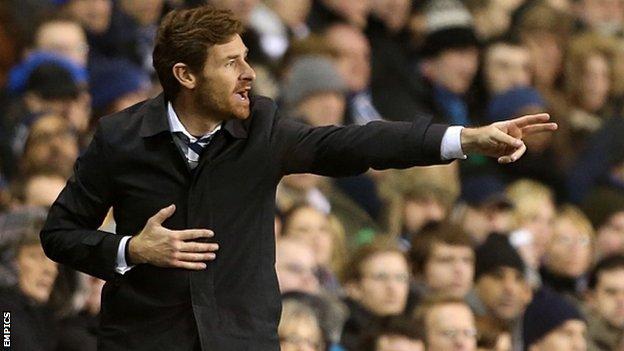 Tottenham manager Andre Villas-Boas has said his former club Chelsea and other Champions League failures do not deserve to be in the Europa League.
Chelsea enter the last 32 of the competition after finishing third in their Champions League group.
"You can't give a bonus to teams who have failed," said Villas-Boas after his side secured Europa League progress with a 3-1 win over Panathinaikos.
"It's extremely unfair. I have said this in Uefa meetings before."
Tottenham will not meet their London rivals until at least the last 16 as teams from the same country cannot be drawn against each other before that stage.
"It would be much fairer if the clubs came in to the Europa League when they are knocked out of the last 16 of the Champions League," added Villas-Boas, who became Chelsea boss after winning Europe's second competition with FC Porto in 2010.
"In the situation as it stands, teams fail in the Champions League and are promoted to the Europa League, which, in my opinion, is a massive bonus."
The 35-year-old Portuguese was sacked by Chelsea after eight months in charge.
Villas-Boas admitted he felt let down by the club's owner, Roman Abramovich, after his sacking and said it would be destiny were the two clubs to meet in the tournament.
"Hopefully if we go through we can meet each other," said Villas-Boas, who will learn who his team plays next on 20 December.
"They have a team that can win the trophy, so they will be up to the late stages of the competition. We hope to do so. If we cross it is going to be two magnificent games for sure."