Jol makes plans to cover for Diarra during Nations Cup
Last updated on .From the section Football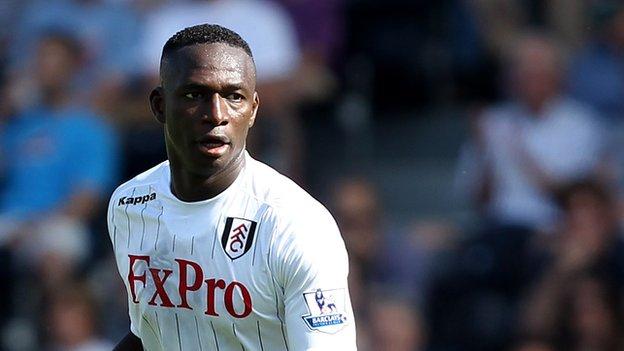 Fulham boss Martin Jol has revealed he is making plans to cover for Mahamadou Diarra, who is set to play for Mali in next year's Africa Cup of Nations.
The 31-year-old midfielder is expected to be picked by new Eagles' coach Patrice Carteron for the 19 January-10 February tournament in South Africa.
And that means he could miss up to five Premier League matches.
"We'll look to strengthen the squad because if Diarra goes I can do nothing about it," said Jol.
"As it is now he will go to the African Nations Cup."
The former Lyon and Real Madrid midfielder moved to Craven Cottage in February as a free agent after being without a club for eight months because of persistent knee injuries.
Despite a year's absence, he returned to captain Mali in their 3-0 qualifying win over Botswana in September but picked up another injury that ruled him out for six weeks.
"He was out for two years because he had a very bad injury," said Jol. "He had to go back to Lyon without a contract and then I took him.
"It was not only that he didn't play for a club, he didn't play for his country as well. But you can't keep them back because they are proud to play for their country."
Diarra, who has won 64 caps for Mali, joined Fabio Capello's Madrid in 2006 for £20m from Lyon. He helped them win La Liga in his first season but an injury on international duty in October 2008 began a catalogue of problems that culminated with his departure to Monaco last January.
An ill-fated spell ended when they were relegated at the end of that season but Jol is delighted he took the chance to snap him up on a deal until the end of this season.
"He was so good for me last year because a lot of older players left the club. He changed the dressing room," said Jol.
"I can remember him when he was 18 he was a revelation. He started in Crete and then came to Holland with Vitesse.
"There won't be a lot of players in Europe who will stay at Real Madrid for five years so that is how good he is.
"It was a gamble because he was 30 so it's important to keep him fit.
"He's getting fitter but he had a setback earlier in the season and had to have an operation, which I thought was quite bad," Jol added.
"But after three or four weeks he was back on the pitch again. Two weeks later I couldn't play him against Arsenal but last week he was ok, although he felt it afterwards because he is not getting any younger."
However, the Dutchman does not plan to discuss a new contract with Diarra for a few months.
He said: "If you do it now, you don't know what is going to happen. Maybe he will be out for the next five months and it will cost a lot of money.
"We have got the time and I don't think he will move to another club."