Bristol City will reduce club debts, says Jon Lansdown
Last updated on .From the section Football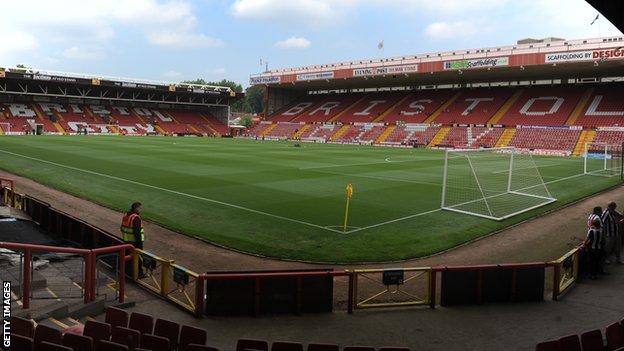 Managing director Jon Lansdown has admitted there is work to do at Bristol City to sort out their finances.
"Unfortunately it's got to this stage so far but we've got a plan and we will get there," he told BBC Radio Bristol.
"We're still talking at the end of the day at aiming for £10m and £8m losses which isn't a good position, so there's a long way to go."
The losses are up nearly £3m compared to the previous results with a slight drop in turnover combined with the wage bill rising from £15.9m to £18.6m a contributing factor.
The Championship side have also had to pay off former manager Keith Millen and his coaching staff in the past 12 months, as well as then paying compensation to St Johnstone for the appointment of Derek McInnes and assistant Tony Docherty.
Lansdown acknowledges the results will leave City struggling to meet the Financial Fair Play regulations, with sanctions, which can include a transfer embargo, for non-compliance expected to come in to force at the start of the 2014-15 season.
By the 2015-16 season, losses at a Championship club can be no more than £5m, with a maximum of £3m funded by shareholders and clubs.
"It can't continue as you've got the restrictions of Financial Fair Play," Lansdown added. "It's a fine balance and it's working with what you've got. If you have to trade to get into a better position, you have to trade.
"We've already gone a long towards it. What we've done over the summer and what we're currently doing will go along way towards that."
Despite the club's losses Lansdown has promised funds for boss McInnes if he needs them in January when the transfer window reopens, with the side currently sat in the Championship relegation places.
"We don't put a set budget out, I don't think it does you any favours to do it but consistently as a football club and a board we back our managers and we'll do that as we usually do," he stated.
"There is a balance as there is probably a few players who want to move out at the same time but we'll look to get some fresh faces in to help us through."
City manager McInnes, speaking at the club's annual supporters' meeting, has revealed their first bit of business with a deal agreed in principle to keep midfielder Neil Danns when his loan expires from Leicester City.
"We've managed to get that agreed although the paperwork has not been signed. Neil wants to extend his loan and Leicester are keen for that to happen as well," he told BBC Radio Bristol.
"From my point of view I've enjoyed working with him and I think he's done well but there is more to come."